Posted by
Ben Golliver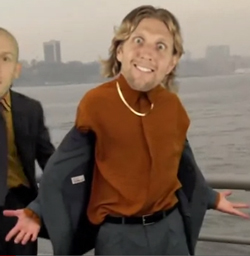 If you're the kind of person who thinks stupid videos are hilarious, I have just the stupid, hilarious video for you.
Dallas
Mavericks
owner Mark Cuban
tweeted a link
on Friday to a YouTube video titled, "The Dallas Mavericks are sexy... and they know it!"
The video is set to the song "Sexy And I Know It" by the beer-hawking goof troop music group LMFAO and features Mavericks coach Rick Carlisle and players
Dirk Nowitzki
,
Brian Cardinal
,
Shawn Marion
,
Jason Kidd
,
Vince Carter
,
Delonte West
and
Jason Terry
with their heads superimposed on dancing people, half-naked people, etc.
It also includes footage of Cuban's appearance on ABC's
Dancing With The Stars
dance competition show, video of Mavericks fans dancing during games and clips from the Nerd Classic movie,
Napoleon Dynamite
.
The video's description reads: "What is Sexy? Webster's defines the word as 'generally attractive or interesting.' I find that there is nothing sexier than this simple equation: World Championship + Blinding Dance Moves = Sexy."
Here's the "Sexy And They Know It" video
via the Dallas Mavericks on YouTube
. Hat tip:
@TasMelas
.