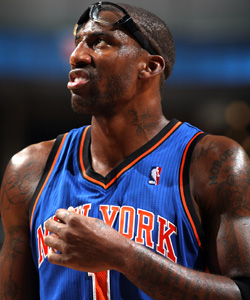 By Matt Moore
Amar'e Stoudemire
was held out of the 2010 FIBA Tournament by the
Knicks
due to insurance issues. In short, the Knicks had taken too much of a chance on Stoudemires and his surgically repaired knees to risk anything happening to him after just signing him to max deal. But apparently things were different this time around two years later and the Knicks were fine with STAT taking his talents to London. Funny thing. Stoudemire wasn't invited to the 20-man list out of which the final 12-man roster will be selected.
From the New York Post:
The Knicks pulled Stoudemire off the World Championship team in the summer of 2010 only weeks after he signed an uninsured $100 million contract. It ticked off USA Basketball CEO Jerry Colangelo, who likely didn't want to have to deal with the Garden politics again. Stoudemire said the Knicks haven't said anything about him not being able to play for the Olympics and a team official said it doesn't believe they have preference.

"It's definitely not my choice,'' Stoudemire said. "I would love to play. My loyalty is with USA Basketball. ... If they need me, I'm there.''
via
Amar'e Stoudemire of Knicks upset at not being named Olympic team finalist - NYPOST.com
.
There were likely basketball reasons in play here more than personal ones or matters of convenience. Team USA is so stacked with talent, the most since Dream Team II at least, that every player has to play very specific roles. The bigs defend and rebound while working the offensive glass. The perimeter players shoot from the outside. The wings largely are counted on to produce perimeter penetration to kickstart the offense and to shut off passing and driving lanes. Stoudemire is a pick and roll big who isn't a great rebounder and struggles on defense. He's just not a great fit, no matter how good he is in the NBA.
Team USA could use Amar'e, but there's a long list of players good enough who won't make the roster. It's a shame for him that the power forward class in the NBA exploded over the past two years with
Blake Griffin
,
LaMarcus Aldridge
, and
Kevin Love
. At least the interest is there for players wanting to represent their country, though.