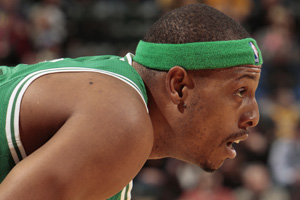 By Matt Moore
The
Celtics
are in a free fall. They're not concerned, but maybe they should be. They have four wins against the following teams: Washingtong, Detroit, and New Jersey, teams which are a combined 7-33. Their eight losses encapsulate dominant playoff teams, solid middle-seed playoff teams, a struggling Dallas team, and the New Orleans
Hornets
. In short, the captain's saying not to panic, but he's also putting all his silverware in a bag.
And the vultures are circling. Yahoo reports that teams have begun calling to inquire about the captain, the franchise,
Paul Pierce
:
As Kevin Garnett and Allen become free agents this summer, money will peel away from the salary cap. Between then and now, the bigger question promises to be: Does ownership and general manager Danny Ainge go for the complete rebuild and trade Pierce before the March 15 deadline? Several contending teams have inquired about Pierce's availability. As one Eastern Conference official said, there are "lots of calls asking if [Boston] will blow it up."
via
Celtics headed for rebuild, maybe sooner than later - NBA - Yahoo! Sports
.
Trade Paul Pierce?
Paul Pierce
?
The
Paul Pierce? The Captain? The man that's been with the franchise since he was drafted, the icon of the team since the turn of the century? It seems incomprehensible. But of the players the Celtics have left, Pierce may have the best overall value. He has two more years left instead of the expiring contracts for the other members of the Big 3, but his game is also less effected by age.
But what teams would be interested in Pierce? You're clearly looking for contenders, both because of his age and because you need a team he'll want to play for. These are hypothetical, but surveying the list of possible teams leaves few real possibilities. The
Bulls
have
Luol Deng
. The
Heat
have
LeBron James
. The Sixers wouldn't want to move anyone they have for Pierce who couldn't get them to the next level. The
Pacers
have
Danny Granger
. The
Hawks
don't need more salary. The
Clippers
have
Caron Butler
. The
Spurs
will get
Manu Ginobili
back. The
Lakers
... no. Don't even think about it. Too weird.
So it's unlikely Pierce goes anywhere. The Celtics can either amnesty Pierce this summer or just live with him on the books. They're clearing enough space to pull in a marquee free agent. They have room to rebuild. And you can't trade Pierce. You just don't do that.
Do you?