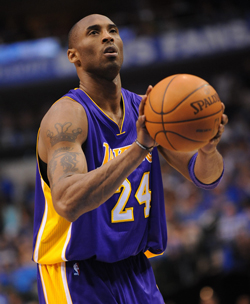 Posted by Royce Young
That German knee treatment
Kobe Bryant
had done has been great, but surely it can't be
this
great.
Kobe is averaging 37 minutes a game and at 33 years old with a bum wrist and shaky knees, that's just too many minutes. Coach Mike Brown knows it and wants to cut into that.
"I do want to get it down,' Brown said Tuesday
via the O.C. Register
.
The 37 minutes a game is a four-minute increase over last season with Phil Jackson. But it's not just that. As the story notes, it's a
hard
37 minutes. Unlike in the Triangle, Kobe is the constant focus of the offense, working to get shots, fighting to get open, running off picks, using his dribble -- he's having to put in a heavy workload every night.
He's taking almost 25 shots a game this season, which is the second highest total in his career. And it's not just that. Remember, it's a lockout shortened season with more games and less rest. The
Lakers
want Kobe healthy, rested and ready for April and May, not January and February.
So if Brown has to sacrafice a game here or there to get Kobe some rest, he might be doing that more. Just trying to whittle three or four minutes a night off is a big deal. It doesn't help that Kobe would prefer to play all 48, so it's not like he's volunteering here.
Via SLAM