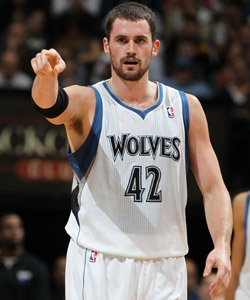 Posted by Royce Young
It's not even my contract and
I'm
insulted.
According to the Pioneer Press
, the
Timberwolves
are setting up to offer
Kevin Love
a four-year, $60 million extension before the Jan. 25 deadline. You already know this, but that most definitely is NOT a maximum extension. This comes after
a report a couple weeks ago
said the Wolves were planning on offering Love the max, but it was just a matter of if he wanted to sign.
Well, if he was having reservations about signing a max deal, I'm pretty sure $60 million over four years will give him even more pause.
If Love doesn't sign the extension, he will become a restricted free agent July 1 (assuming the Wolves extend the $6.1 million qualifying offer, which they will). And I'm pretty sure somebody will step up and give Love more than $60 million. He's a legit building block player and while I can understand Minnesota's reservations in giving him the max, you have to do it. Or at least get closer.
Otherwise, you're going to see a player walk. Because Love thinks he's a max player and why not? The guy averaged 20-15 last season and is putting up better numbers this year. For whatever reason, Love outperforms
Blake Griffin
almost every way statistically and yet people see Griffin as a no-brainer superstar and Love as just a good, solid 4-man. Maybe it's because Love plays below the rim or maybe it's something else -- who knows.
If Love becomes a restricted free agent, other teams can offer four years at 4.5 percent raises which would total about $65 million. Unless Love chooses to just accept the qualifying offer and waits to become an unrestricted free agent in 2013. The Wolves might just think they'll match any offer that rolls in and be done with it, but it might not be that simple at that point. Love might choose to just wait and then pick his own destiny in 2013.
The most recent power forward I can think of that got a big extension was
LaMarcus Aldridge
in 2009 who agreed to a five-year, $65 million deal. The season before that, he averaged 18.1 points and 7.5 rebounds a game. Again, Love is at 25.6 ppg and 14.3 rpg this year after 20.2 and 15.2 last season.
This leak could be part of the negotiation and the Wolves could very well still be offering the max soon. Obviously Minnesota would love to sign Love for less. The Wolves would prefer he sign a five-year deal for $10 million if he would be willing. It's a negotiation. And Love likely sees himself as a max guy and the Wolves will probably have to step up to the plate. I think they will. But the clock is ticking.