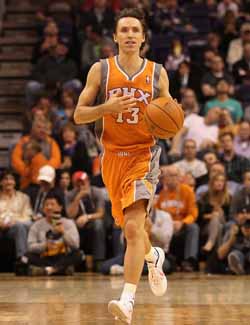 Posted by Royce Young
There have been a whole lot of
Steve Nash
to New York rumors over the past few years with his former coach Mike D'Antoni running the show and former teammate
Amar'e Stoudemire
playing in the Big Apple.
Every time, that rumor has been squashed without anything all that substantial coming out of it. I'm sure the
Knicks
have called the
Suns
and made inquiries over the past couple seasons, but that happens all the time, all over the place.
This time though, there might be a little more steam behind it. Because it makes a whole lot of sense.
According to the New York Post
, the Knicks plan on targeting Nash this summer using their mid-level exception.
That's why The Post has reported the Knicks plan to target Nash (along with Jameer Nelson and Raymond Felton) with this summer's $5 million mid-level exception.
Shocking news: The Knicks, a team that need a point guard like
Boris Diaw
needs a donut, are planning on targeting available point guards. I know, I can't believe it either.
But the thought of Nash is what makes it more intriguing. Right now,
Mike Bibby
,
Iman Shumpert
and
Toney Douglas
are splitting duties with
Baron Davis
likely to take over the full-time role once he's healthy. And though Nash is 37, he is still Steve Nash and would be a terrific addition for the Knicks. Especially considering he could pull back a bit on having to do so much like he does in Phoenix.
My question is,
and I posed this in my thing ripping the Knicks point guard situation
, why not go hard after Nash
now
? Yeah, I suppose you could just wait until the offseason and sign him without giving up anything in return, but that just means the Knicks have to hope and pray Baron Davis gives them something. Otherwise, it's just another mediocre season at MSG and wait until next year when Nash is a year older.
I understand waiting on Nelson or Felton. But Nash does genuinely seem like a terrific fit. The problem is that the Knicks have gutted themselves getting
Carmelo Anthony
that there isn't much left to deal for Nash.
Nash has said he won't request a deal
, but if at the deadline the Suns decide they want to deal him and Nash says, "I'll only go to New York," and the Knicks come calling offering up Shumpert, Landry Field and Douglas plus a spare part pick, maybe that's enough to make Phoenix bite. Maybe the Suns decide they'd like to get back three rookie deal players in exchange for Nash. Or maybe the Suns would rather preserve cap space and be players in the 2012 market.
Or maybe Nash just wants to stay with the Suns. I guess that could happen too.
Via PBT