Posted by
Ben Golliver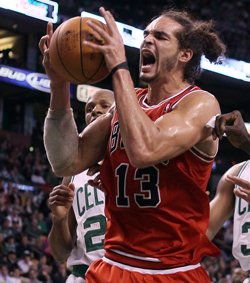 The Round Mound of Mouth strikes again.
The Chicago Sun-Times reports
that TNT commentator Charles Barkley singled out Chicago
Bulls
center
Joakim Noah
as his latest victim this week, following a 2-point, 5-rebound performance in a loss to the Memphis
Grizzlies
on Monday.
''His energy level is not the same," Barkley said. "I have loved how hard he has worked, but he has not played up to his capabilities this year. Even though Chicago has a great record, he has not played like he has played the last couple of years.''
Noah's raw stats are down across the board so far this season. In 16 games, he's averaging 7.1 points, 8.2 rebounds, 1.7 assists, 1.1 block and .6 steals per game. All of those numbers are down from 2010-2011, when he put up 11.7 points, 10.4 rebounds, 2.2 assists, 1.5 blocks and 1.0 steals per game.
Of course, Noah played 32.8 minutes per game last season while he is so far logging just 26.6 minutes per game in 2011-2012. He's been benched for the entire fourth quarter multiple times, something you rarely see with a player who has established a reputation as an elite defensive player and rebounder. Reserve center
Omer Asik
, meanwhile, has seen his playing time up from 12.1 minutes per game last season to 17.4 minutes per game.
Has Noah's productivity dip meaningfully affected Chicago to this point? It certainly doesn't seem like it.
The 13-3 Bulls sit atop the Eastern Conference, boasting the league's second best defense and best rebounding rate. In both metrics, they are posting better numbers than they did last season. Offensively, Chicago is currently ranked No. 7 in the NBA, up from last season's No. 12 ranking.
While Bulls fans have expressed disappointment with his play to this point, Noah's per-minute production this year is roughly the same as last year when it comes to rebounds, steals and blocks, the statistics we most often associate with "energy" when it comes to evaluating big men.
The major difference in Noah's numbers is actually his shooting, where he's significantly worse. Indeed, Noah is shooting just 41.2 percent from the field, his worst mark in his five years as a pro and more than 10 percent below his 52.5 percent shooting last season. His bread-and-butter paint scoring accounts for that slippage: he's shooting worse at the rim (47.1 percent, down from 61.7 percent) and from 3-9 feet (26.3 percent, down from 38.5 percent),
according to HoopData.com
.
As of Wednesday, the Bulls were the only team in the NBA that has played 16 games so far this season. That Noah's minutes and shooting numbers are down so significantly without it impacting Chicago's won/loss record is a quintessential example of a "good problem to have" during this lockout-shortened season. Having a capable reserve in Asik to cover for Noah when he struggles is an absolute luxury.
The Bulls will need more from Noah as the season progresses, particularly in the playoffs, but this critique is a classic nitpicking of a solid all-around team rather than any kind of a crisis. Noah's track record as a worker shouldn't be overshadowed by a slow start.
Hat tip: Pro Basketball Talk