Posted by
Ben Golliver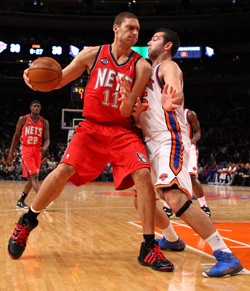 It's been a tough start to the 2011-2012 season for New Jersey
Nets
center
Brook Lopez
.
Swirling rumors that he would be
packaged in a trade
for Orlando
Magic
All-Star center
Dwight Howard
, a foot injury that is
expected to sideline him for six weeks
and now word that the Nets do not currently have plans to offer him a contract extension.
ESPNNY.com reports
that Nets GM Billy King said Wednesday that the Nets won't move to lock up Lopez in advance of a January 25th contract extension deadline.
"I'm sure I'll have a conversation with his agent [Arn Tellem]," King told reporters before Wednesday night's game against the Golden State Warriors. "But I don't know if we'll do anything with him at this point. I think you just have to wait. They may throw a number at you that makes sense."

"The injury has had an impact on it," King said.
Lopez, 23, is regarded as one of the more promising young big men in the NBA, but the timing of his injury couldn't be worse. He's coming off a season in which he averaged 20.4 points but left much to be desired by only pulling down 6.0 rebounds per game. Lopez stated publicly that he would hit the glass harder but, given the type of major investment talented 7-footers require in the NBA, it's not a huge surprise that New Jersey prefers to wait before cutting the check now that their evaluation time has been eliminated by the injury.
If Lopez does not agree to an extension, he would become a restricted free agent this summer. Keeping their options open with Lopez also allows the Nets to maximize their flexibility and continue their pursuit of high-profile free agents next summer, in an ongoing effort to convince All-Star guard
Deron Williams
to stick around.
Through Wednesday, the Netes are 4-11 on the season.