Posted by
Ben Golliver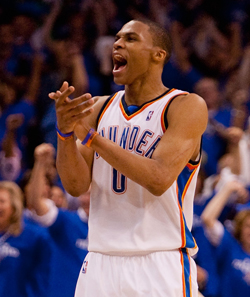 The second All-Star has been locked up.
Yahoo Sports reports
with confirmation from Ken Berger of CBSSports.com that the Oklahoma City
Thunder
have signed All-Star point guard
Russell Westbrook
to a 5-year extension worth $80 million.
All-Star point guard Russell Westbrook has signed a five-year, $80 million contract extension with the Oklahoma City Thunder, league sources told Yahoo! Sports.

Thunder general manager Sam Presti finalized the deal with Westbrook's agent, Thad Foucher of Wasserman Media Group, on Wednesday night. The Thunder will hold a news conference when the team returns to Oklahoma City on Sunday.
SI.com
confirmed the deal's terms
.
The Thunder formally announced the signing in a press release later Thursday.
"We are thrilled to solidify Russell's future with the Thunder," said [GM Sam] Presti. "Since we arrived in Oklahoma City, Russell's work ethic, persistence, character, and involvement in our community have helped us establish the standards that we are committed to on a day-to-day basis. He is a valued member of our organization and we look forward to his continued contributions on and off the floor."

"We are very excited that Russell will continue to be a part of the Thunder organization," said Chairman and Chief Executive Officer Clay Bennett. "He has demonstrated high personal character, a strong commitment to his teammates and a remarkable dedication to the development of his performance as a player. We especially value his role in the community as he has consistently represented "Oklahoma City Basketball" with pride and integrity."
Westbrook, 23, is an elite point guard in the NBA, boasting athleticism and explosiveness that few can match.
After making his first All-Star appearance in 2011, Westbrook is averaging 20.5 points, 5.5 assists, 5.0 rebounds and 1.7 steals per game. He was recently
named as one of 20 finalists
for the 2012 Olympics' Team USA. Westbrook was named to the 2009 All-Rookie first team and the 2011 All-NBA second team.
All-Star forward
Kevin Durant
and Westbrook represent arguably the best young 1-2 punch in the NBA. The Thunder inked Durant to
a 5-year max extension in 2010
. The pair led the Thunder to the Western Conference Finals in 2011.
Westbrook was selected with the No. 4 overall pick in the 2008 NBA Draft after spending two seasons at UCLA. Known for his competitiveness and fiery demeanor, Westbrook has received criticism for his shot-selection, turnovers and temper, especially during the 2011 playoffs, but his importance to Oklahoma City's long-term plans was never in question. Neither, really, was the size of his pay day. It's difficult to perform better during your rookie deal than Westbrook has in his 3+ seasons with the Thunder.
Oklahoma City currently holds the best record in the Western Conference at 12-3.