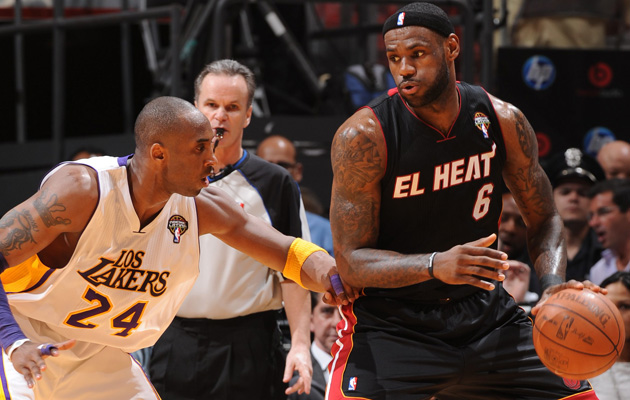 The Heat need LeBron James, who is a gametime decision with flu-like symptoms, against the Lakers Thursday night in Miami.
(Getty Images)


By Matt Moore
The Heat and Lakers are probably the most recognizable teams in the league at this moment in time. Featuring a likely six All-Stars between them, it's a marquee matchup of the season. Even with
Dwyane Wade
out and LeBron James a gametime decision, all eyes will be on South Beach Thursday night to see if the Lakers can get past the wall they've recently hit against LeBron's teams, and if
Kobe Bryant
can continue what has been an incredible month for him. The Lakers need this game to avoid another loss to a playoff team, and their second loss in three games, while the Heat need a win to stave off a disastrous four losses in five games stretch. With that, here are 5 Things to Watch or Miami Heat vs. L.A. Lakers 2012, Round 1.
1. A Sick Attitude:
LeBron James isn't feeling well. And it's not even the Finals! (Hey-O!) James is a gametime decision against L.A. due to "flu-like symptoms" that he's been dealing with this past week. James was also not feeling great against the
Spurs
and missed several layups and jumpers in the first half. Then apparently he had a Hi-C juice box at the half because he came out and demolished the Spurs in the third quarter to help the Heat turn a double-digit deficit into a double-digit route. That's what he can do. The question will be if his condition has worsened and how he reacts to it. Thanks to Michael Jordan, expectations actually raise if you have the flu. So LeBron's under pressure not only to win, but to extra special while sick. With the compact schedule, there's little rest, so James could be far less than 100 percent Thursday night. Which pretty much dooms the Heat. This is not the
Hawks
.
2. Spreading the Wealth:
Kobe Bryant has been ridiculous over the past week,
Mavericks
game aside. He's been on tear of scoring 40 per game which came to an end against the Mavericks, but they got the win anyway. He's also been shooting an insane amount. His usage rate, or percentage of possessions used, is at 39.7 percent. So basically 4 out of every 10 times the Lakers come down the floor, he's the one who winds up with a shot or turnover. Against Miami, he may want to get everyone else involved so the Heat's help rotation defense doesn't neutralize everyone else, leaving him to go it alone. Granted, Dwyane Wade being out opens up chances for him (
Shane Battier
remarked after practice today that he was going to get some Hail Mary's in before the game). But the Lakers can dominate the Heat inside. An efficient game from Bryant that uses
Pau Gasol
and
Andrew Bynum
's advantage over a small Heat frontline to open up opportunities for Kobe could be the difference. That way Kobe gets the points, and the win.
3. The Inside Man:
Well, I was worried about Andrew Bynum tearing the Heat apart, but
Eddy Curry
might play. The Heat are saved! But seriously, Bynum should be able to have his way with the smaller
Joel Anthony
and much smaller
Chris Bosh
. The Heat may even put
Dexter Pittman
on Bynum due to his size, but the youngster won't have the experience or muscle to hang with the wunderkind. If Bynum gets touches, the Lakers can play at their pace and rough up the Heat. Do that and you slow down the Heat's transition attack, their biggest asset.
4. Old Friends:
Mike Brown knows LeBron James' tendencies as well as anyone in the league, having coached him for years in Cleveland. And setting aside whatever personal history exists between them, Brown will likely have his team prepared to combat James' effectiveness, flu or no flu. Whether it's goading him into his ineffective mid-range jumper, bringing help at the right time and position, or attacking one hand or another, Brown will have one of the best books on James you can have in this league, and he has a quality defensive roster and
Metta World Peace
to implement on him. Classic matchup: superstar power versus coaching stratagem.
5. Next Generation:
Norris Cole
and
Darius Morris
could have a lot to say about this game Thursday night. Cole provides a full-speed, no hesitation bucket creator for the Heat they desperately need coming off the bench. Morris provides an athletic point guard, which they haven't had in eons.
Derek Fisher
's savvy and
Mario Chalmers
' athleticism and improved shooting should cancel one another out, which means whichever guard can make the most of the attention drawn by their superstar big brothers will make a big swing in a game that features a lot of veterans in role positions. You hate for a game to come down to two rookies, but considering the matchups, whichever handles the pressure better could help their team to a monstrous win.
Your Plus-3 for the game:
- Don't be surprised to see Chris Bosh heavily involved in trying to draw out Pau Gasol, who has struggled with defense in space this season. Bosh has excelled at the pump fake and go, but if his jumper isn't falling, Gasol can pack the lane along with Bynum, keeping the Heat in mid-range jumper mode.
- The odds of a physical conflict in this game are pretty high. Between
Udonis Haslem
, Andrew Bynum, Bryant and Battier,
Matt Barnes
, Metta World Peace and the rest of the Heat bench, this will likely not be a pretty game.
-
Mike Miller
hit his shots against the Spurs in his first game back. He better hope he hasn't used them all up. The Lakers will bring a lot of help and cheat inside on drives, which means Miller will have looks. If he knocks them down, that puts the Lakers' defense into disarray.