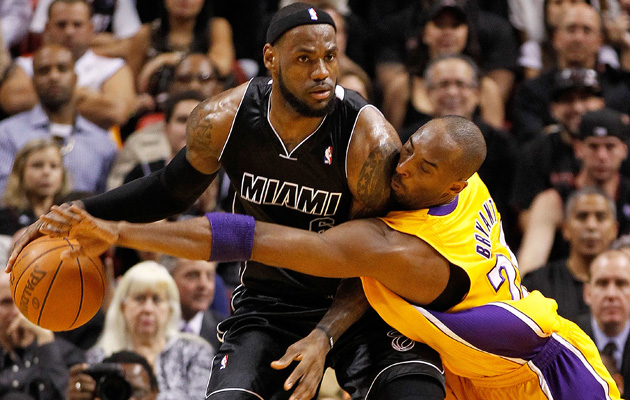 Grades from the
Heat
's
98-87 win over
the Los Angeles
Lakers
Thursday night.

Well, he was on 4-9 in the fourth quarter. But then, that didn't really matter, since he scored 31 points (but needed 27 shots), had 8 rebounds, 8 assists, 4 steals, and 3 blocks. That's about as complete a game you're going to find in a game with this kind of pace. James had pretty much everything working. A teardrop, a hook shot, threes, mid-range, dunks, the works. His team needed him to step up with flu-like symptoms and he got it done. It's not the flu game, but it is very impressive.
Erik Spoelstra

Spoelstra managed a pretty magnificent stratagem against the Lakers. He doubled
Kobe Bryant
as aggressively as you can, daring the Lakers' perimeter shooters to hit shots from range. When they couldn't, the Lakers' offense fell apart. Bryant was forced into either deferring or poor shots. The Heat's defense was in fine form. They funneled the ball where they wanted and when it went where they didn't (
Andrew Bynum
), they hammered the Lakers and made them hit free throws. Masterful game by Spo.

Didn't shoot well, but ran the offense effectively and was disruptive on defense. Chalmers made no boneheaded plays and wound up with six assists. He did what the point guard on this kind of team needs to do. His job, and nothing more.

Bosh was charged with a brutal task. Score against two of the best big men in the league and defend them when they have multiple inches and tons of weight on him. Yet Bosh was effective in deterring entry passes and being active on the weak side. He spaced the floor with 15 points and set the tone.

The lone bright spot, Gasol should have gotten the ball much more in this game. He had the mid-range and was aggressive driving. It was a vintage performance wasted by a terrible Lakers offense.
Kobe vs. LeBron

The record is 11-5 and James just beat him with flu-like symptoms (Bryant obviously dealing with a torn ligament in his wrist that is arguably much more severe). James has won five straight against No. 24. Those that feel regular season games are meaningless won't be affected by these games (or anything short of James winnning six rings). But if we're buying into head-to-head to any degree, James' dominance is clear.
Kobe Bryant

Some poor shot selection, which you expect. But a lot of shots he usually hits just weren't falling. He controlled his shooting, controlled his turnovers, and tried to get the Lakers back in the game. Bryant's biggest problem Thursday night was not being as good as LeBron James. And really, on a night like Thursday, how do you blame him for that?
The Lakers mystique

Note that James didn't have an A game, Bosh didn't have an A game, the Heat didn't have
Dwyane Wade
, Kobe Bryant scored 11 straight in the fourth.... and they lost by eleven. The Lakers can still win a title this season. But no one's scared of this team right now. The menace is gone.