Posted by
Ben Golliver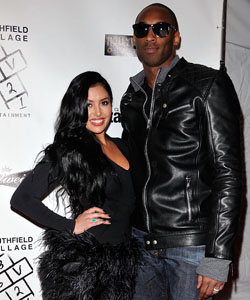 It's a good thing this guy practically lives in the gym.
We
noted earlier this week
that Los Angeles
Lakers
All-Star guard
Kobe Bryant
was set to lose a reported $75 million in a divorce settlement with wife Vanessa. TMZ.com reports Friday that the settlement will give Vanessa all three of the Bryants' homes.
Vanessa scored a clean sweep, snagging all three of the former couple's mansions in the Newport Beach area. Vanessa gets the estate the couple was living in, the estate her mom is living in, and she gets the new estate that had been under construction for 2 years and was just completed.
The Bryants, who have two young daughters,
announced
that they were filing for divorce in December and they did not have a prenuptial agreement in place.
In a prepared statement issued to the media in December, a representative of the Bryant said: "The Bryants have resolved all issues incident to their divorce privately with the assistance of counsel and a Judgment dissolving their marital status will be entered in 2012."
According to Basketball-Reference.com
, Bryant has earned more than $196 million in salary during his NBA career. Bryant is on the books for $25 million for the 2011-2012 season, tops in the NBA
according to Forbes.com
, and has an additional $57 million owed to him in 2012-2013 and 2013-2014 combined.
SI.com reports
that Bryant makes at least $10 million per year in off-court endorsements.