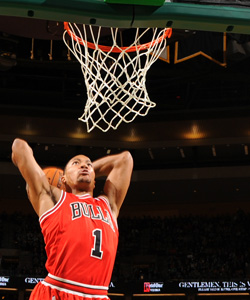 Derrick Rose is still battling a turf toe injury.
(Getty Images)
By Matt Moore
and
Ben Golliver
Update
: Chicago
Bulls
All-Star point guard Derrick Rose has been ruled out for Friday night's game against the Cleveland
Cavaliers
,
according to the Plain-Dealer
.
Original Post
: Derrick Rose is once again a gametime decision Friday night vs. the Cleveland Cavaliers. Rose has been battling turf toe for weeks, and in an interview with the
Chicago Tribune
, revealed the extent of the injury and how uncertain he is for the short-term of when he'll be back.
Rose, for the first time, admitted the injury is worse than the turf toe that bothered him during his second season, which didnt cause him to miss any games. He also said he cant bend the toe. And also for the first time, Rose said he has "a little regret" for averaging 40 minutes in back-to-back games against Boston and Toronto last weekend.

Rose originally suffered the injury on Jan. 10 in Minnesota when Anthony Tolliver drove his foot into the ground during a scramble for a loose ball. He sat the next night, then played the next two games before sitting for good.

"Knowing that right when it starts feeling good it can go right back to zero, I have to make the smart decision," Rose said. "I wasn't able to bend my toe in like three years. When this injury happened, I aggravated it and I played on it sooner. It was real bad.

"Injuries are going to happen. Thats why I always get treatment. This is worse than my second season. That season, I just played through it but it wasn't that bad. Not being able to bend my toe in three years and somebody just forced their weight on my toe, it definitely hurt it."
via
Rose admits toe worse than 2nd season injury - chicagotribune.com
.
How many of you winced just reading that? Yeah, me too.
The fact that Rose is trying to play on it at all, that he has played on it, and well, speaks a lot to his dedication to his performance and the Bulls. But the Bulls have lofty goals this season, namely advancing to the Finals after falling one round short, and the only way they can do that is if Rose is in a position to give them what he can provide at full strength.
Rose struggled in last year's playoffs due to wearin down. He sustained an ankle injury against Indiana in the first round, and those things just don't heal easily. He took such a pounding due to the load he was carrying that when he matched up against
LeBron James
, he had nothing left. The Bulls have to be very cautious. As long as they're winning, there's no reason to rush Rose back. Better to get him back at as high a percentage as they can and continue to rest him periodically than punish his body before the real season, the playoffs, begin.
K.C. Johnson of the
Tribune
says he would be "shocked"
if Rose plays Friday night vs. the Cavs.