Posted by
Ben Golliver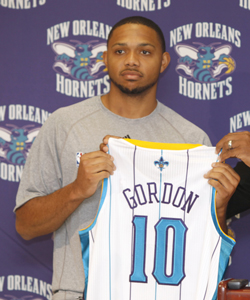 Eric Gordon
didn't look particularly thrilled when he got traded to the
Hornets
in December, but he says he's open to the idea of staying in New Orleans long-term.
The Times-Picayune reports
that Gordon, a 2008 lottery pick who is eligible to receive an extension until a Jan. 25 deadline, is open to a multi-year commitment to the Hornets, thinks the interest is mutual, and expects negotiations to pick up in advance of Wednesday's deadline.
"I'm very open to a long-term extension," said Gordon, the seventh pick in the 2008 draft. "It's all about having enough security to where I'm able to be here."

"You know they've told me they want me here, they want an extension," Gordon said. "But it's all about what they think is the worth in me. They see that I'm capable of helping this team win, capable of playing hard every night offensively and defensively. Now it's all about dealing with what I'm worth."

"I'd say starting next week (talks aimed at an extension) would be very serious and maybe have something down the line. And whatever happens, happens. I think both sides may be able to come to an agreement. But right now, we're both comfortable."
Gordon, 23, has been one of the top performers from the 2008 draft class when he's been healthy. Last season, he averaged 22.3 points, 4.4 assists, 2.9 rebounds and 1.3 steals per game for the Los Angeles
Clippers
, who included him in a blockbuster trade for All-Star point guard
Chris Paul
during the December free agency period. Although he's a bit undersized, Gordon can shoot, create his own shot and can score the ball in a variety of ways. Last season, he was one of the most consistent scorers game-to-game in the NBA, thanks in part to his ability to get to the free throw line.
His ceiling is likely that of a good team's No. 2 player and a bad team's No. 1 player. With the Clippers, he was an excellent outside complement to the inside force of All-Star forward
Blake Griffin
. In New Orleans, once he's healthy, he will be asked to step into the role of being "The Man."
There's no question Gordon is a cut below the Max contract performers in his class, which include Chicago
Bulls
point guard
Derrick Rose
, Oklahoma City
Thunder
point guard
Russell Westbrook
and Minnesota
Timberwolves
forward
Kevin Love
. He's in the second-tier, though, but that still means a handsome pay day. Second-tier guys from the 2007 Draft included Atlanta
Hawks
big man
Al Horford
(5 years, $60 million) and
Joakim Noah
(5 years, $60 million).
Gordon is currently nursing a knee injury that's kept him out for 13 games this esason and he missed 20+ games in each of the last two seasons. That missed games number is certainly going to impact his price when it comes time to negotiate. Another wild card: the fact that the Hornets are still owned by the league and in the process of being sold. No extension for Gordon would mean maximum flexibility and minimal allocated payroll for a new owner. On the other hand, an extension for Gordon would at least ensure one star-type player in place for the future rather than a barren pantry.
Despite the injuries, Gordon has a fair bit of leverage here. He would command interest and major offers if he hits the market as a restricted free agent next summer, and, let's face it, the Hornets need him a lot more than he needs them now that Paul is gone and the rebuild is just getting started. His representation should therefore be able to drive a hard bargain and, ultimately, could deliver Gordon a deal slightly larger than his performance and health to date has warranted.
One thing is certain: if the Hornets aren't able to get this done before Wednesday, it will be very interesting to hear how they spin it to their beleaguered fanbase.