Posted by
Ben Golliver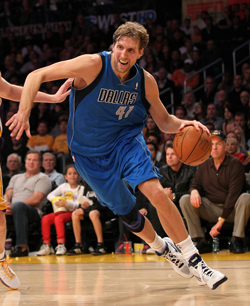 The Dirkus Circus will be on a brief hiatus.
Dallas
Mavericks
All-Star forward
Dirk Nowitzki
will reportedly be out of action for at least a week.
Mavs.com
and the
Star-Telegram reported
that Mavericks coach Rick Carlisle told reporters that Nowitzki will sit out "at least four games" to nurse a "sore right knee."
The Associated Press adds
that the week off might be as much about conditioning as it is about the knee.
"We just thought it was a good decision for everybody. I'm not happy right now anyways, so the guys are better off when I'm not out there,'' Nowitzki said. "This gives me time to really do some of the stuff that I couldn't do when my knee was bothering me the last couple weeks. I couldn't lift and run and do the things I needed to do.''

Dallas coach Rick Carlisle said he and the Mavericks' training staff decided Nowitzki needed "an uninterrupted eight days of work to resolve some physical issues and conditioning issues,'' adding that Nowitzki had "no choice'' in the matter.
The Mavericks are scheduled to play at the New Orleans
Hornets
on Saturday before beginning a 4-game homestand that will include games against the Phoenix
Suns
on Monday, the Minnesota
Timberwolves
on Wednesday, the Utah
Jazz
on Friday and the San Antonio
Spurs
on Sunday. If Nowitzki is to miss four games, he would return for that Sunday match-up between the two Texas powers.
Nowitzki, 33, has been one of the NBA's most durable players for more than a decade, playing in at least 80 games in six of the past 12 years and missing more than six games in a season just once since 1999-2000. That was last season, though, when Nowitzki's sat out nine games in the middle of the season with a knee injury. Of course, he rebounded to help lead the Mavericks to the 2011 NBA championship.
This year, Nowitzki's numbers are off across the board. He's averaging 17.5 points -- his fewest in more than a decade -- and he's grabbing just 5.4 rebounds per game and shooting just 45.6 percent from the field, his lowest marks since his rookie year.
Nowitzki
told the Dallas Morning News
this week that his right knee was "stiff" and that he "can't really move the way I want to." He has also admitted to taking an extended time away from basketball following the 2011 EuroBasket tournament.
The Mavericks enter Saturday night with a record of 9-7.