Posted by
Ben Golliver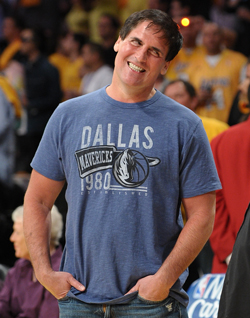 For years, Dallas
Mavericks
owner Mark Cuban has been on a one-man crusade to keep NBA players out of international basketball competitions. His reasoning is straightforward and convincing: NBA team are exposed to the risks associated with injury and fatigue during what should be the players' offseason and the players aren't properly compensated for their participation.
With the 2012 Olympics just around the corner, the topic has come up again thanks to Mavericks All-Star forward
Dirk Nowitzki
, who is currently sidelined because he is undergoing
a week-long boot camp
to get himself back into shape. Nowitzki needs the work after taking some time off during the lockout to rest up after competing for Germany at the 2011 EuroBasket tournament. He hasn't been himself throughout the first month of the season.
ESPNDallas.com reports
that Cuban is ramping up the volume of his protest in an effort to get NBA commissioner David Stern to consider removing NBA players from the Olympics.
"It's just the epitome of stupidity that we would allow ourselves to be used so other corporations" -- as Cuban calls the Olympics -- "can make tens, if not hundreds of millions of dollars," Cuban said. "There's some guys sitting at the Olympic headquarters going, 'Those dumb-***es, we're taking all their best guys for nothing.' "

Cuban knows he's unlikely to bring change to the system, but he said he will continue "fighting so that we'll pull out."

"The commissioner's office won't open it up to discussion. They just make a unilateral call," Cuban said Monday. "They'll take calls about it, but won't put it up for a vote. Hopefully, I can get him to move it to a vote at some point."
Nowitzki's 2011-2012 salary is $19 million and he's on the books for $20.9 million in 2012-2013 and another $22.7 million in 2013-2014. In that light, it's understandable why Cuban might view this situation as a business-owning entreprenuer rather than a gung-ho patriot.
As fruitless as attempts to convince Stern on this subject might be, there's really no better alternative. International NBA players are often heroes in their homeland, and representing one's country whenever possible is regularly a top priority for them, schedule be damned. Saying "no" would be pure heartbreak.
Even Team USA coach Mike Krzyzewski -- whose team is NBA players top to bottom, rather than one exceptional individual like Nowitzki or a handful of NBA players like those on the French and Spanish national teams -- said recently that he pitches his players on the patriotic importance of their participation.
"We have used the military as a good example of selfless service and we've had many members of the military speak to our teams," Krzyzewski said on a conference call announcing the 20-man candidate pool for the 2012 London Olympics team.
Without a system revamp -- Cuban proposes turning the Olympics into a 21-and-under tournament -- there's simply no way for NBA teams to receive the protections Cuban desires. In the geo-basketball world, NBA teams have been stuck with the short stick, and convincing monoliths like Stern and the International Olympics Committee to change course could take decades.
Cuban isn't one to take a slight without a response, so we shouldn't be surprised that Cuban is speaking up. If anything, we should be surprised that he hasn't been able to rally more voices by now given how many of his fellow owners face the same predicament. Their frustrations, though, are likely to continue. This is the mother of uphill battles given the money and national pride at stake.