Posted by Royce Young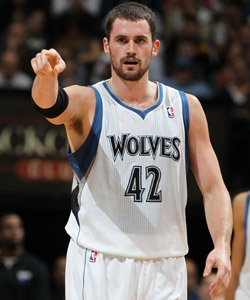 Time is running out for Kevin Love to get his extension from the Wolves.
(Getty Images)
The deadline for the class of 2008's extensions is coming Wednesday.
Russell Westbrook
and
Derrick Rose
got their deals, which were to be expected. But one other player that's earned a big payday is still waiting.
So where are things with Kevin Love?
According to the Star-Tribune
, the
Timberwolves
haven't moved up to a five-year max offer just yet. The Wolves were reportedly in the four-year,
$60 million range last week
, which Love wasn't exactly stoked about.
"One team source told me tonight that the Wolves are closing in on a five-year maximum contract deal that would pay him more than $78 million and despite such a forthcoming deal, David Kahn hasn't won any brownie points with Love in this negotiation. Another said that as of Monday afternoon, the team still hadn't moved off its four-year, $61 million offer."
ESPN.com reports that Minnesota's offer is for four years, $62 million right now. But there's still a little time to get something done and whether it's four or five years, Love has to be a priority for the Wolves.
The Wolves know that Love will likely take their deal no matter if it's four or five years because it's the most Love can get. If Love were to go to restricted free agency, the biggest deal he could sign would be four years, $58 million.
The question is though, is the extra year worth it for the Wolves to potentially offend Love? Unlike the deals for Westbrook and Rose, Love hasn't exactly been shown that he's important to his franchise. They're stringing him along, trying to milk him out for less. To me, that's not wise. You don't treat your cornerstone like that. Sure, maybe you want to save here or there, but for premier talent you just have to bite the bullet and pay up. It's life with a star.
And don't tell me Love's not a star. He's entirely deserving of the max deal, whether the Wolves offer it or not. Time's running out for that though. You have to think a deal is going to get done because you just can't risk a player like Love getting away. It's just a matter of who's blinking first.