Posted by
Ben Golliver
.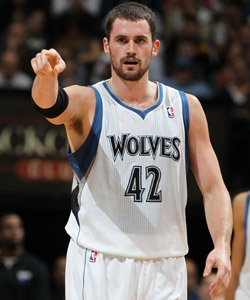 Kevin Love has agreed to a contract extension.
(Getty Images)
After some last minute nip-and-tuck, we have a deal.
The Minnesota
Timberwolves
announced on Wednesday that the club has "reached an agreement in principle" with All-Star forward Kevin Love on a 4-year contract extension.
Ken Berger of CBSSports.com
reports
that Love's extension "is estimated to be worth about $63 million" and includes an early termination option on the final year.
The Timberwolves released a formal statement on Wednesday.
"I am happy for Kevin who deserves to have the financial security that this contract affords him," said David Kahn, Timberwolves President of Basketball Operation. "Kevin has worked extremely hard to earn this and we are thrilled that he'll be with us for many years to come."

"Kevin's decision to commit to the Timberwolves for several more years is, I hope, validation that our team is headed in the right direction," Kahn said. "Kevin is the cornerstone of this team and somebody who I believe all Minnesotans can admire for his hard work and effort.
TwinCities.com reported on Tuesday
that the two sides had agreed to a deal worth $62 million but Love took to Twitter to suggest a deal had not yet been finalized.
The two sides were reportedly haggling over the inclusion of a fifth year on the deal, something possible only if Minnesota were to tag Love as their "designated player." Fellow 2008 Draft standouts
Derrick Rose
and
Russell Westbrook
had been given that distinction, but the Timberwolves reportedly preferred a 4-year deal so that they could save the designation for possible future use on rookies
Ricky Rubio
or
Derrick Williams
.
The Associated Presss got Love's take on the matter on Wednesday.
"Did I want the five years? Of course," Love said on a conference call from Dallas, where the Timberwolves were scheduled to play the Mavericks on Wednesday night. "It was something I felt strongly about, but at the end of the day, a four-year deal is still great."

"I was willing to make a commitment for five years. They thought otherwise," he said.
Locking up Love for four years while maintaining flexibility going forward would have be a coup for Kahn, but sacrificing a guaranteed fourth year of Love's future by compromising on the player option simply wasn't worth it. Love is Minnesota's franchise player and deserved every ounce of the star treatment. Certainly, Minnesota will face some tough decisions as its young core group ages, but the No. 1 priority should have been keeping Love, and keeping Love happy. Barring a catastrophic injury, it's difficult to imagine a scenario where having Love locked in for three years is a better situation than having him locked in for five years.
Minnesota is behind the 8-ball in retaining star players as a small market team with a terrible recent track record, and this was an opportunity to truly secure the future. Instead, Minnesota got 60 percent of the way there. Why not totally bury the contract distraction and all the questions that go with it? The Timberwolves plain over-thought this one.
Love, 23, was the No. 5 pick in the 2008 NBA Draft after spending one season at UCLA. He's generally regarded as one of the league's top-3 rebounders and he was recently named as
one of 20 finalists
for the United States' 2012 Olympics team. He was the NBA's leading rebounder in 2010-2011 with 15.2 per game, earning recognition as the NBA's 2010-2011 Most Improved Player and being named to the 2011 Western Conference All-Star Game.
Love is averaging 24.9 points, 13.9 rebounds and 1.7 assists in 39.4 minutes per game this season.