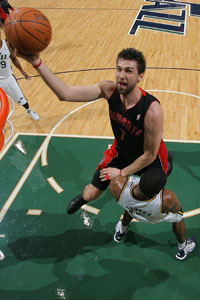 Bargnani re-injured is calf against the Jazz Wednesday.
(Getty Images)
By Matt Moore
Andrea Bargnani
had
just
gotten back on the court after a calf injury had kept him on the sidelines and crashed the
Raptors
' momentum. He scored a career high against the
Suns
Tuesday nights and followed that up by helping the Raps topple the Jazz on a back-to-back. But during that game, he also tweaked the same calf he had just healed. And this time? According to him, it's "much worse."
Bargnani, who had been as dominant at times Wednesday as he had been in a brilliant return from injury on Tuesday, hobbled to the bench in the first overtime period, a forlorn look on his face and the left leg that had caused him to miss six games once again injured.

"We'll see what the severity of it is — or if it's severe — evaluate it and go from there," coach Dwane Casey said of Bargnani's injury.

Bargnani said it was "much worse" than the last time he hurt himself.
via
Toronto Raptors win double-OT thriller, but Andrea Bargnani hurt again - thestar.com
.
It's a huge blow for the Raptors who are now on a two-game winning streak. It's not just Bargnani's points. It's that he's defending at such a higher level, for the first time in his career. It ruins all the Raptors' momentum, kills Bargnani's razor-thin chances at an All-Star game appearance, and puts more pressure on a Raptors frontcourt that has been falling apart as of late.
Ed Davis
has been unable to put his considerable tools together in what was expected to be a breakout year for him, while
Amir Johnson
pretty much is what Amir Johnson pretty much is.
Aaron Gray
has been playing well next to Bargnani but can't do too much on his own. The Raptors could certainly use the help of rookie Jonas Valanciunas, still in Europe on the last year of his contract.
Hopefully the injury won't keep him out as long as he seems to think it will. At least Raptors fans have something to look forward to, no matter how rocky the immediate future might get.