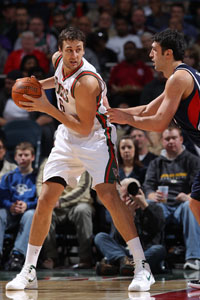 Bogut sustained another ankle injury Wednesday night.
(Getty Images)
By Matt Moore
and
Ben Golliver


Update (7:05 p.m.)
: The MIlwaukee
Bucks
announced on Thursday
that starting center
Andrew Bogut
underwent an MRI on his left ankle, which revealed a fracture that is going to keep him out "indefinitely." The
Journal Times reports
that "indefinitely" means that Bogut will miss at least two weeks.
Bogut is averaging 11.3 points, 8.3 rebounds, 2.6 assists and 2.0 blocks per game this season. The Bucks are currently 7-10 on the season.
Original Post:
In another in a continuing theme this week, struggling teams who have started to put it together suffering significant injuries to their best player, Milwuakee Bucks center Andrew Bogut suffered yet another injury Wednesday night, and he's afraid how the diagnostic tests could wind up on this one. From the
Milwaukee Journal-Sentinel
:
After the game, Bogut sat in front of his locker with a grimace on his face and a large black boot on his left foot.

"It wasn't good," Bogut said. "I knew when I came down I was in some trouble. Keeping optimistic, everything's fine with the X-ray, but that's to be expected. I know I didn't break a bone."

But tomorrow's the day of reckoning where I go under the MRI machine and find out my fate."

The best-case scenario would be a severely sprained ankle, but even that would be likely to sideline Bogut for a week or more.

"I'm not optimistic. With my history of unlucky injuries I'm hoping this one can do me a favor and go away. Most of my injuries are unfortunate things and this goes in the same boat as that. It's frustrating."
via
Bogut fears worst with latest injury - JSOnline
.
That sound you hear is Bucks fans lining up at the booze counter to forget their troubles.
Um, at least it wasn't
a horrifying elbow injury
that makes you wish you'd never see it ever? (Note: Do not click that link. Not safe for anyone, ever.)
Bogut's comments have to have you concerned. Any basketball player knows what a sprain feels like, they've had severe ones regularly, it's unavoidable. The fact that Bogut's talking about it being worse than that, despite the X-ray being negative, is just not a good sign at all. That implies ligament damage, and Bogut's had enough injuries (for ten men) to know how that feels.
Without him, the Bucks season implodes. They've just recently started winning, with some more efficiency from
Brandon Jennings
and better overall offense. But Bogut is the glue that holds it together. They can't really justify blowing the roster up, but it will be the fouth year where they don't know how good they would be if healthy. But keeeping it together seems like a waste of opportunity as well. Hopefully Bogut's feelings aren't in line with his injury and it's a minor problem.
The watch begins.
(HT:
SLAMOnline
)