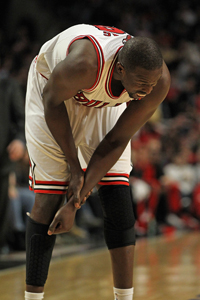 Deng with no regard for Luol's life.
(Getty Images)
By Matt Moore
Luol Deng
may be a little insane. We may need to check to see if Tom Thibodeau has done something bad to his wiring during practice. Because what Deng's talking about is just beyond crazy.
Deng's torn ligament in his left wrist
is in all likelihood different and more severe than the one
Kobe Bryant
suffered and is playing through. It's a testament to Bryant's intensity that he's gunning his way through it. And Deng wants to join him on the floor, despite doctor's orders. Form the
Chicago Tribune
:
Hardened by past questions about his toughness and buoyed by the Bulls' championship potential, an upbeat Luol Deng will try to play through a torn ligament in his left wrist that sources say doctors suggested he have surgery to repair.

"I know it sounds terrible, but I really think I'll be fine," Deng said.

Deng even is telling teammates he hasn't ruled out playing in Sunday's game against the Heat, though that seems unlikely after coach Tom Thibodeau conceded Deng is "going to be out awhile."
via
Chicago Bulls: Luol Deng determined to play - Chicago Tribune
.
So the doctors say you really need to get surgery, and you say you'll play Sunday. We may need to stage an intervention for Lue.
The biggest differential is that Deng still has several years left on his career arc. The
Lakers
' window is closing, and Bryant is desperate to obtain that sixth ring. Deng is searching for his first, but the Bulls' window is propped open for the foreseeable future with
Derrick Rose
,
Taj Gibson
,
Joakim Noah
, and even a few more years of
Carlos Boozer
. Deng risking permanent damage to his wrist, kind of an important joint, is admirable but also exceptionally risky. If nothing else, the Bulls medical staff should make sure they keep him out as long as will at least get the wrist stabilized a bit more.
Deng is gritty, tough, relentless, an All-Star caliber player. But the Bulls' need for Deng go far beyond the next four months.
(HT:
PBT
)