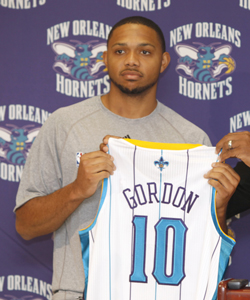 Eric Gordon will be a restricted free agent this summer.
(Getty Images)
Posted by Royce Young
The
Hornets
failed to extend and lock up their new franchise centerpiece before the Jan. 25 extension deadline and the word was because Eric Gordon straight
rejected their offer
.
But according to the Times-Picayune
, Gordon and the Hornets reached a mutual agreement to sit and wait.
"It wasn't that I turned down anything, it works both ways,'' Gordon said. "Yes, I'll be restricted, but I am just a basketball player right now and the future is unclear.

"All I can do is worry about coming back at this point to try and help the team win games at the end of the year. It's not the best situation, but it's also not the worst. As long as I get back playing that will be the thing."
The report says that Gordon wanted a maximum per year salary of either four or five years. Which obviously the Hornets didn't want to dish out. For a lot of reasons, too. For one, Gordon isn't a max dollar player and two, the Hornets are owned by the NBA and aren't exactly the most cash flexibile organization in the league right now.
GM Dell Demps said in a press release that the Hornets were close to getting it done with Gordon but couldn't come to a meeting point. He also said the team is optimistic and encouraged that the Hornets will be able to retain Gordon in restricted free agency this summer.
They're going to have competition though as the Indiana
Pacers
are already
reportedly chomping to get a piece of their hometown guy
.
Gordon is out another three to six weeks because of a knee bruise and has only played two games with the Hornets so far this season.