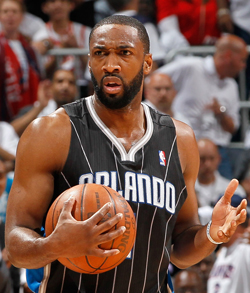 Could Arenas be headed for Los Angeles to join Kobe?
(Getty Images)
Posted by Royce Young
Here's how you know you might need point guard help: You're calling Gilbert Arenas up.
According to HoopsWorld
, the Los Angeles
Lakers
are interested in the veteran point guard, who was cut via the amnesty clause by the
Magic
before the season started.
The Los Angeles Lakers have expressed interest in Gilbert Arenas, according to sources close to the situation. The 30-year-old is an unrestricted free agent after being amnestied by the Orlando Magic last month. No signing is imminent, but the Lakers have reached out to the veteran point guard.

League sources say that Arenas would love to join the Lakers. He grew up in Los Angeles and is interested in playing for his hometown team. He believes that he can contribute in Los Angeles' backcourt, which currently features an aging Derek Fisher, injured Steve Blake and inexperienced Darius Morris. Arenas and Blake played together for two years with the Washington Wizards.
By all accounts, Arenas is in shape and ready to sign on with a team. And the Lakers make a decent amount of sense. Arenas wants to play on a good team and the Lakers desperately need some help at that position. As well as scoring options. Arenas could potentially help with both.
Arenas played relatively well in Orlando averaging better than 17 points a game in games he started, but he never did settle into a backup role well. And that could be the challenge for him in Los Angeles. Derek Fisher will likely remain the starter and Arenas would have to push to beat out Steve Blake (when he's healthy) and rookie Darius Morris.
It's just a matter of need and if the Lakers need offensive help, specifically at point guard, that badly, then Arenas is one of the best answers on the market. He'd likely sign for the veteran minimum, so he'd be a low risk deal. And if he could find a little of his old self, it could be a great signing. You want to avoid distraction or an upset in chemistry and with Arenas being an older veteran, I think he'd handle his business well. Especially since he doesn't have a lot of options right now.