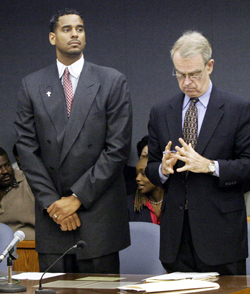 Former NBA player Jayson Williams is reportedly a hero in prison.
(Getty Images)
Posted by
Ben Golliver
From professional basketball player to prison prophet.
Former NBA All-Star Jayson Williams, who spent a 9-year NBA career with the Philadelphia
76ers
and New Jersey
Nets
, has had a rough go of it after retirement. He was convicted and jailed after
accidentally shooting a limousine driver
at his home and then
wound up at the notorious Riker's Island prison
after getting arrested again on a DWI charge in 2010.
The New York Post reports
that, despite all the trouble, Williams is a popular man in prison according to one of his former fellow inmates, Christopher Hughes.
"People treat him like a star," said Hughes, who was released from Rikers last week after serving time for reckless assault. "Every single person shakes his hand. He is like Moses, the Moses of Rikers."

He described how Williams, 43, attends church and leads Bible-study classes every day.


"Jayson would sign people's Bibles," Hughes told us. "I would ask him why, and he'd say, 'Fake it till you make it.' I thought he was saying, 'If I can get them in the door through this signature, then at least I got them in the room to see Christ.' "
Williams is reportedly writing a book, according to the paper.
Not to be flip, but this is an eerie case of life imitating art. Who could forget when former Los Angeles
Lakers
forward Rick Fox played Jackson Vahue, a disgraced basketball player turned convict, on "Oz," an HBO prison drama?
There is one important difference. Vahue turned to drugs once imprisoned while Williams, from this account, is making the most of his stint in the clink. It was beyond comprehensible that Williams found himself re-arrested after what should have been clearly a life-altering experience in the limo driver shooting, but it's never too late to see the error in one's ways.
Indeed, Vahue re-appeared on "Oz" as a parolee who returned to the prison to counsel the younger inmates. With any luck, Williams' life and book -- reportedly titled "Humbled" -- wind up coming full circle to find a similarly happy ending.