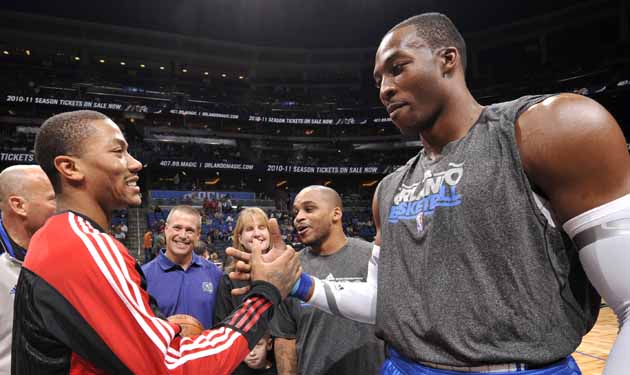 Howard says he would love to play with Rose in Chicago.
(Getty Images)
By Matt Moore
Oh, thank goodness. It had been almost 24 hours without a prospective landing place for
Dwight Howard
popping up. I was starting to feel alone and sad.
Thankfully, the
Chicago Tribune
spoke with Howard this week on the question all
Bulls
fans want to know.
Does he really not want to play
with
Derrick Rose
? The
Magic
's big man says as long as the Big Guy upstairs is down with it, he'd absolutely play next to the MVP.
"If I could play with Derrick right now and God wanted that to happen, it will happen," Howard told the newspaper. "It has nothing to do with me not wanting to play with Derrick Rose. I love him. That's my brother."
via
ChicagoTribune.com's "Dwight Howard: Orlando center Dwight Howard on long-shot trade to Chicago Bulls: If God wanted that to happen, it will happen
."
Howard also denied
any sort of marketing complication with Adidas
would
keep him from wanting to join
the Bulls. Previous reports said Howard was possibly resisting the idea of playing in Chicago, whether due to complications with being "the man" next to Rose or the market when compared to New York or Los Angeles, or some other issue, like the weather. Howard could simply be playing the PR game to leave all of his options open. He's likely amiable to playing in Chicago, but still prefers the warm spotlight of L.A. or the fuzzy fur coats in Brooklyn.
But Howard would be wise to consider Chicago -- both for himself and the franchise he's likely dumping. A trade with the Bulls would be easiest to facilitate because they have quality veteran players to package in exchange for Howard, which the Magic are said to covet. With a full stock of draft picks, young players and sub-stars like
Carlos Boozer
and
Joakim Noah
, the Bulls could take on Howard's salary and one of the Magic's overpaid contracts. For Chicago, putting Howard next to Rose would be phenomenal -- and giving Tom Thibodeau the best defensive player in the league could create the best defense in league history, depending on whether
Luol Deng
were sent away in such a trade.