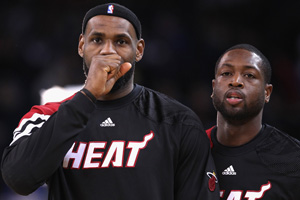 LeBron says his chemistry with Wade is at an "all-time high right now."
(Getty Images)
Posted by Royce Young
Rewind to last summer where
Dwyane Wade
blamed part of the
Heat
's NBA Finals loss to the
Mavericks
on chemistry.
He said
, "One thing that Dallas beat us at – they had more chemistry than us. They had a game plan and we were still figuring ours out in our first year together."
Fast forward to this season where the transition alley oops are happening by the bunches and the Heat look as powerful as ever.
LeBron James
says the chemistry between him and Wade isn't just good, it's at a level it's never been before.
Via the Sun Sentinel
:
"It is at an all-time high right now, honestly," James said of the chemistry between the two. "It is just a chemistry that we have. Last year was a blueprint for us. It is not like we look for each other more than others, it kind of just happens.

"We're two of the fastest guys in the league when it comes to a break and it is kind of pick-your-poison with the defender, either allow me to get a dunk or allow D-Wade to get a dunk. We are two unselfish players. If a guy is open, we pass it."
That sound you just heard was 29 other teams shuddering slightly. If that's actually true and LeBron and Wade are figuring out how to play together and off each other -- whoa.
But the thing is, transition baskets and running is one thing. Executing down the stretch in the halfcourt of a close game is another thing. And I don't think Wade and LeBron or the Heat as a whole have figured that out at all. Take the most recent example Sunday against the
Bulls
. Miami won, but not because of the halfcourt offense in the fourth quarter. Had
Derrick Rose
made two free throws, we might all be sitting here saying "What's wrong with the Heat?" and LeBron might not be saying things like that.
I have no doubt the on-court chemistry between Wade and LeBron is great and they are willing to pass to each other. But that's not the secret key to making the Heat unstoppable. It's about incorporating that chemistry with the other three guys on the court with them. It's about playing off each other while playing with each other. The Heat look very good and with
Chris Bosh
playing exceedingly well along with the terrifying fast break Miami has, nobody is going to argue if you say they're the best in the league right now.
But it's one thing to feel your chemistry at its highest level in late January. It's another to feel it in the NBA Finals when you desperately need a basket.