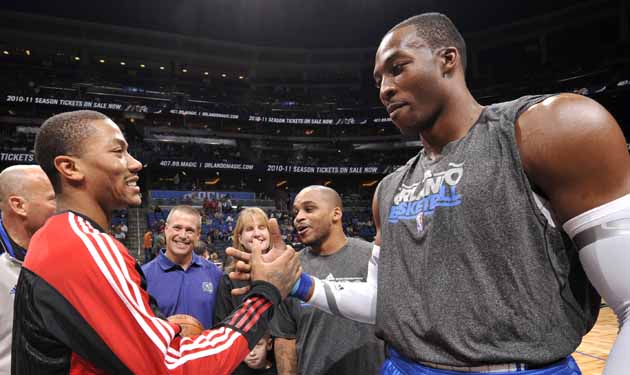 Sure, Derrick Rose would like to play with Dwight Howard. Whatever.
(Getty Images)
Derrick Rose
never really tried too hard to recruit Dwight Howard or
Dwyane Wade
in 2010. He wasn't out front lobbying to add
Carmelo Anthony
last year. And now that Dwight Howard is saying he wouldn't oppose going to Chicago (but it's not his favorite, is the unsaid component), Rose is playing it the same way as he has in the past.
Basically, "Uh, sure, I guess."
From CSN Chicago:
"Me and Dwight definitely have a relationship, especially because of adidas. I know our market and the city speaks for itself, if someone was interested to come to the Chicago Bulls," Rose said of the Magic's All-Star center. "Dwight, he's a great player. Who wouldn't want to play with him, but you never know what's going to happen."
via
Rose on possibility of playing with Dwight Howard
.
As always, Rose is pretty much like "eh, whatever." Rose wants good teammates, but his attitude publicly has always been that he'll go out there and focus on what he does and win with his guys.
It begs the question if he'd be like this if he had been drafted elsewhere. If he hadn't landed on a Bulls team that if not phenomenal, did have a playoff core with
Ben Gordon
,
Luol Deng
, and
Joakim Noah
before adding
Carlos Boozer
and the current roster, would he still be so supportive of teammates and would he still avoid clamoring for help like every other star seems to? If Derrick Rose were in Charlotte, would he sill have his head down, going into the lane and playing at such a high level? Or has his support altered his approach and kept him from complaining about help like every other All-Star does if they can't lift their team up on their own?
It's one of the things that makes Rose an admirable star. Whether it's because of how things worked out or not, he doesn't complain. He supports his guys. He thinks his players can win. Dwight Howard
is criticizing his teammates
and
saying they should not be affected
by him talking about how great it would be to play with any other contender. Rose has backed his guys and when the Bulls have struggled, he's put it on himself to be better.
It's a shame for the small markets. Not only do the big markets get the best players, but they get the kind of guys the small markets need, while the small markets wind up with guys constantly looking for help and brighter lights.
If the Bulls acquire Dwight Howard, they'll be the favorite to win the title (and they're pretty close to that now). It'll be a phenomenal combination of talent, two of the three best players in the league. But if not, there will be no grousing from Rose. That's just not who he is.