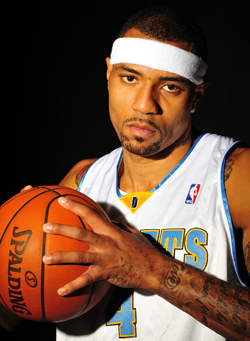 Miami is reportedly recruiting Martin and Joel Przybilla.
(Getty Images)
Posted by Royce Young
You won't believe this, but it doesn't sound like
Eddy Curry
was the answer inside for the Miami
Heat
.
According to ESPN.com
, the Heat have made offers to two free agent big men to try and help build their interior depth -- Kenyon Martin and Joel Przybilla.
The Heat have offered contracts to both Joel Przybilla and Kenyon Martin, their agents told ESPN.com. Przybilla is expected to make a choice between the Chicago Bulls and Heat, according to agent Bill Duffy. Martin is interested in several teams, with the Heat in the mix, according to agent Andy Miller…

Heat president Pat Riley has been recruiting both players as the Heat look to add depth to their frontcourt.
Martin most recently was in China honoring his contract with Xinjiang, but left the team in December. Because of Chinese Basketball Association rules, Martin wouldn't be eligible to sign with the Heat for another two weeks until Xinjiang's season is over.
Martin has also been recruited
by the
Lakers
,
Spurs
Knicks
and
Hawks
. He averaged 8.6 points and 6.2 rebounds in 48 games for the
Nuggets
last year.
Przybilla has been retired because of injury issues, but according to the report is healthy and "believes he can contribute to a contender in a limited role off the bench." Przybilla is reportedly expected to make a decision between the Heat and Bulls by the end of the week.
Przybilla played in 36 games for the Portland
Trail Blazers
and Charlotte
Bobcats
last season, averaging 1.8 points and 4.0 rebounds.
The Heat obviously are desperate for a big man to provide some post scoring, toughness and rebounding on the inside.
Joel Anthony
is solid, but behind him is Curry,
Juwan Howard
and
Dexter Pittman
. If Przybilla is truly healthy, having his 7-1 frame on the block would surely help LeBron and Wade.
Same goes for Martin, who added to a frontcourt of
Chris Bosh
and
Udonis Haslem
would give Miami quite the trio of power forwards. It's doubtful the Heat would look to sign both.
The Heat's roster stands at 15 so if one were to sign, a cut would have to be made. Curry is the obvious candidate as he has a non-guaranteed contract with Miami.