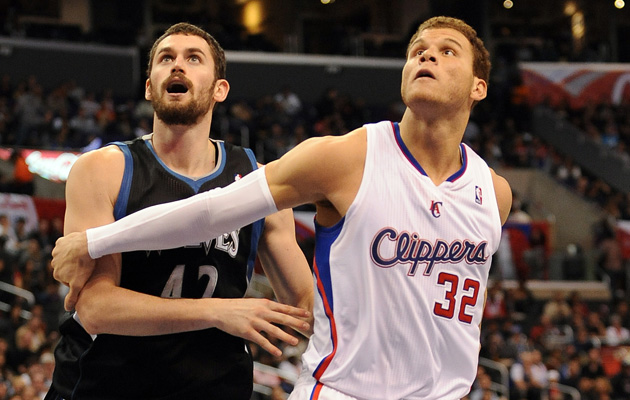 Love and Griffin represent the next generation of All-Star forwards. How great can they be?
(Getty Images)

By Matt Moore
How good is
Blake Griffin
? How good can he be?
Is
Kevin Love
one of those guys you're going to look back and remember when he had trouble getting on the floor in Minnesota and laugh? (Wait, he already is that guy. OK, more so?)
Why is it
LaMarcus Aldridge
has never been an All-Star, but
Chris Kaman
has?
Are these guys you can win a championship with? Are these guys legends? What is it we're witnessing, here?
All right, we're 75 words in and already miles ahead of ourselves. Let's back up and start where any discussion of the greatness of current NBA power forwards should start. With point guards.
-------------------------------
We're in the NBA's golden age of point guards. There have been amazing point guards before, and certainly great point guard eras.
Jason Kidd
, Kevin Johnson, Gary Payton, Isiah Thomas, and of course
Magic
Johnson, just to name a small handful. But the era we're currently in may top any before for overall talent. You have to go searching long and hard for a team without a quality starting point guard (as long as you're not starting with the
Lakers
). So it's easy to get caught up in debates over which is the best, in either conference.
But hidden behind that is a debate that began a year ago, has continued for the past 360 days, and which will be set aflame Thursday night as the starters for the 2012 NBA All-Star Game are announced.
Blake Griffin will be announced as the starter. He's certainly worthy of it.
Kevin Love fans will be outraged. They're going to have a point.
LaMarcus Aldridge will barely make the conversation. And that's a crime.
All three players have emerged as the best power forwards in the West and probably in the league. Blake Griffin is the reason the
Clippers
landed
Chris Paul
, the reason they are contenders for the first time. Kevin Love may be dealing with Rubio Mania, but he's still the man in Minnesota and the biggest reason the Wolves are within striking distance of a playoffs berth. And Aldridge, who was always passed over by fans for Brandon Roy and then twice for
Greg Oden
, is the rock holding Portland steady.
It's entirely possible one of them does not check in on Sunday, Feb. 26th, and that's more than a little bit insane.
But moving beyond the ridiculousness of the All-Star Game, the questions about each player and their long-term futures are more relevant. Aldridge is 26, entering his prime. At the moment, he's a better, more complete player than either Love or Griffin. But their ceilings are considerably higher, and even the question of which is better becomes complicated and sticky.
But are any of them legitimately "great" all-time players? Do any of them have the potential to be Hall of Fame guys? Where are they in that pursuit?
We're jumping the gun here, and we're well aware of it. Griffin is only 22 games into his second season. Love was only truly freed from captivity last season. Aldridge is just now entering his prime. There's no way to tell if they'll live up to potential, if they've peaked, if this is the best they'll ever be. We're exploring the question to give credence to the fact we have legitimately great players at this position, and to examine how great they really are.
For starters, let's look at some numbers. Let's start with this season's results for the three in question, plus
Paul Millsap
who is truly the dark horse candidate this season, and is only really held back by the number of touches he shares (Millsap has the lowest usage rate. I wanted to compare them to some truly great players that played in the same era so I took
Dirk Nowitzki
's best season -- the 2007 season which was simply incredible regardless of how it ended -- and had to basically pull one of Duncan's 2002-2006 seasons out of a hat.)
In short, Kevin Love looks pretty phenomenal and like he's on track for that. The stunner is that LaMarcus Aldridge would probably be right there if he were just rebounding a bit more. Aldridge is having his most efficient season ever, but his rebounds per game, minutes, and rate just don't add up. Without doing anything else of note, Aldrige suffers here.
But Love is really what shines in this comparison. His rebound totals are clearly boosting him along, but he's become such a terrific versatile scorer. And for a guy whose knock has always been defense, Love is in the 71st percentile in overall points per possession allowed according to Synergy Sports, and 81st percentile in post-up defense.
Griffin's numbers struggle, there's no question there. But how much of it is just youth? He's roughly 100 games into his career. Where does his start match up with the others on this list?
Now that is surprising. Griffin is top-two in points, rebounds, and assists per 36 minutes, and PER, true rebound rate, and assist percentage (those figures factor percentage of rebounds/assists of total possessions while on the floor) in those players' second years, and first in field goal percentage. Not bad, even when you consider the strange career arc of Nowitzki.
But numbers obviously don't tell the entire story.
There is a question when watching these players play if they're truly at that level. Blake Griffin is criticized for his lack of a mid-range jumper. Kevin Love isn't considered the kind of player you can simply get the ball to and ask him to get you a bucket, and his post offense is still a work in progress. They're obviously still forming their games, but the gap between those aspects and what people expect is enough to cause the question of if they will ever get to elite status.
-------------------------------
Is Griffin simply a product of his dunks? There's no question that things like, say, Rest in Perkins this week put him on a different level from a cultural perspective. He's the most prolific dunker in recent memory, and
Dwight Howard
put on a cape with music. The problem comes when we start to fall for an overreaction to that from a critical perspective.
"He's just dunks."
That's a pretty significant fallacy.
Griffin's leaping ability to collect and put back offensive rebounds is something that cannot be denied. He's a solid passer. His post-game shows glimpses of what is likely to be an incredible array of moves along with the kind of natural touch that you need for a player down low. There's nothing physically wrong with his jumper that isn't correctable, and he's got range to the perimeter, even if he's going to it too much this season.
But it's the drives that will continue to be his bread and butter. He works in the pick and roll, but face-up, you need help to guard him. You just do. You had better bring a few friends. Griffin's explosiveness is largely unheard of, and that's the hidden secret to all those dunks. He's not capitalizing off of blown coverages. He's whipping around, over, through defenders to get to the rim. There will come a point where the hammering Griffin endures will take its toll. It's at that point he'll have to adapt, and whether that loss of explosiveness as he ages changes his game will factor heavily into his legacy.
But you cannot watch games like the two-game tilt for the Clippers against the
Thunder
and
Jazz
and not be aware of how he can take a game over. There are only a handful of players like that in the league, and it's that special, immeasurable quantity that really reveals why you have to consider Griffin not just one of the league's best players right now, but a legend in the making.
-------------------------------
Kevin Love can get 30 points and 30 rebounds in a game. He's done it. This should not be overlooked. Being able to produce like Moses Malone is not something you find, even once in a generation. Love's game is a stat-magician's dream. But when you watch him, it's not the numbers that should impress you. It's his ability to make all the right plays.
Love isn't just a perimeter shooter or a guy who nabs the rebound from his own teammate (to be clear, he does a lot of that, too). He's able to measure whether to take the mid-range or drive. When to pass. His outlet pass remains a thing of absolute beauty. His understanding of the floor is something that sets great players apart from their peers. There's a reason
Ricky Rubio
manages to find Love in huge moments uncovered. It's because Love is crafty enough and able to understand the defense well enough to slip in that possession, catch, and shoot before the defense can react. He's got the range, to be sure. But he's also got the work ethic to improve and the mind to manage basketball. Does this make him among the all-time greats? No, but his rare combination of instincts and efficiency is going to get him there in a hurry.
-------------------------------
And then there's LaMarcus Aldridge.
Neither Love nor Griffin have won a playoff game. They haven't been the man on their teams for a playoff team. They haven't endured the kind of misfortune the Blazers have suffered and navigated their way through it. Aldridge is a poor man's Duncan in a lot of ways. Consistent. Quiet. Rarely emotional, largely unnoticed and brutally efficient.
Aldridge doesn't light you on fire like Love or break you into a million pieces like Griffin. Instead he simply hammers you into submission, with mid-range jumper and post move after post move. It's his curse to have a more refined game, but it's also to his benefit. Maybe neither of the younger guns can fit so easily into a coach's gameplan. Neither is as dependable, and neither know how to confound a defense as well in big moments. They may get there, but to ignore Aldridge's excellence at this point in time is criminal.
-------------------------------
And so it is, that while the debate over the best point guard alive continues (it's Chris Paul by the way; calling
Derrick Rose
a point guard is like calling an alien from Mars a citizen of Austin, Texas, they're both weird but that doesn't make it the same thing), the West is slammed with power forwards of past greatness and future legacy. But it's important to capture this moment, where we see the signs of both generations merging. Duncan and Dirk riding out the end, with Garnett fading out in the East, as Griffin sets the world aflame with a highlight reel and Kevin Love leaves you shaking your head.
But in the end, it may be Aldridge, underrated, largely forgotten, less dynamic and dominant and more proficient and capable, who goes the furthest this season of all.
-------------------------------
Closing note: You realize this list excludes
Pau Gasol
(admittedly having a terrible season), glosses over Millsap who would be right there in this conversation if he wasn't sharing touches with 50 other bigs in Utah, and the wide array of superb small forwards in the West? Let's face it, the league is stacked right now.