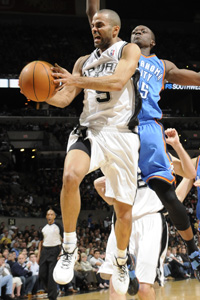 Tony Parker became the Spurs' all-time assists leader Saturday.
(Getty Images)
By Matt Moore
Tony Parker
passed Avery Johnson Saturday night for all-time Spurs assist leader during
San Antonio's 107-96 win
over the
Thunder
. Parker tallied 9 assists to pass Johnson's total and take the new top spot with 4,477.
For reference, Parker is the Spurs' all-time assist leader, and currently 72nd all-time in the NBA. So not exactly a lot of passing going on by the top guards in San Antonio over the years. But it does put one more mark on Parker's stellar career.
In a lot of ways, Parker was the first point guard of the modern era (turn of the century on) as a scoring point guard. He and
Chauncey Billups
were built of the same mold, but Billups was much more of a fill-in-the-gaps scorer versus Parker who was so much an individual creator. While certainly not the first scoring point (Isiah Thomas,
Magic
Johnson), Parker did set the path for players like
Russell Westbrook
and even
Derrick Rose
as dynamic scorers.
Speaking of, while dropping those nine assists last night, Parker scored 42 points on 29 shots.
Parker's promience as a top point guard has faded in the past few years with the emergence of
Chris Paul
, Rose,
Deron Williams
and
Rajon Rondo
, but his consistency and effectivenessfor a contending team for the past ten years is something that should be remembered. After the game, head coach Gregg Popovich was quick to compliment Parker's longevity in acquiring the record... in the usual Popovich way.
"He's been here a long time," Popovich said with a shrug and, if you looked closely enough, a smile. "He should have a lot of assists."
via
Spurs Nation » Parker plunders Thunder
.
Despite Pop's ribbing, Parker entered a toug situation under Popovich and flourished, becoming one of the decade's best players and a Finals MVP. There's no doubt he, along with Duncan and
Manu Ginobili
, will have his jersey in the rafters of San Antonio when he's through.