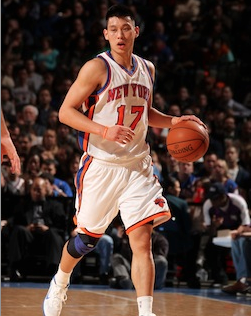 Lin will get the start tonight for the Knicks against the Jazz.
(Getty Images)
Posted by Royce Young
Let the Lin Mania begin in the Big Apple.
After searching frantically for an answer at point guard the first quarter of the season, the Knicks are trying another solution:
Jeremy Lin
.
Lin exploded for 25 points and seven assists in a New York win Saturday, and now has been named the starting point guard for the Knicks' game Monday against the Jazz. It could just be temporary as
Baron Davis
is still seven to 10 days away from being back from herniated disks. But for now, the Knicks are all Lin's.
The New York Post has details
on why Mike D'Antoni made this move now:
D'Antoni said Lin's defense in Saturday night's breakthrough performance against the Nets was a big factor in making the move vs. Utah and not waiting.

D'Antoni also said he feels it's less pressure on Lin to start than come off the bench, where he'd likely receive a huge ovation and hear fans chanting of his name. Lin, the new Madison Square Garden folk hero, is coming off a 25-point, seven-assist performance off the bench Saturday in which the crowd chanted "Jer-e-my!'' across the second half.
Lin, the NBA's first Asian-American player, is incredibly popular having come to the NBA from Harvard. He started his career with the
Warriors
and had a brief stint with the
Rockets
, but seems to fit much better with the Knicks. He's an aggressive pick-and-roll point guard and that's really the kind of system the Knicks prefer to run.
The buzz around Lin can't be ignored as Madison Square Garden chanting his name late in the second half. He's given the Knicks a little shot of life and a bit of hope. Then again, I remember a similar excitement around
Iman Shumpert
a time ago. Which should tell you what you need to know. The Knicks are desperately looking for answers to turn this season around.
But you'll never know if Lin could be one unless he gets a shot.