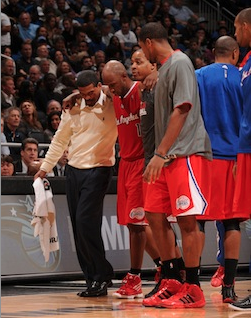 Billups could possibly be done for the season with a serious Achilles injury.
(Getty Images)
Posted by
Royce Young
and
Ben Golliver
Update (Tuesday):
The Los Angeles Times reports
that the Los Angeles
Clippers
' worst fears have been confirmed. Clippers coach Vinny Del Negro told the paper that an MRI test has revealed a torn left Achilles' tendon for guard
Chauncey Billups
, an injury that will cause him to miss the rest of the 2011-2012 NBA season.
The Clippers
confirmed the news
in a statement on their website on Tuesday.
Billups underwent an MRI today at the Cleveland Clinic in Cleveland, Ohio which confirmed the injury. He will return to Los Angeles on Thursday for further evaluation. A date for surgery is yet to be determined.
Billups, who was claimed off of amnesty waivers after he was released by the New York Knicks, will be an unrestricted free agent this summer.
Original Post (Monday):
The Clippers' dream season might have been dealt a major blow.
With 5:48 left in the fourth quarter, Chauncey Billups injured his left Achilles tendon. But not just a tweak type of thing. Billups was helped off the court and didn't return.
According to the L.A. Times
, Billups will be evaluated Tuesday when the team arrives in Cleveland.
"He's going to be re-evaluated," coach Vinny Del Negro told reporters after the game. "He's got an Achilles injury. I don't know the severity of it but it's kind of bittersweet. We will see what happens but we will re-evaluate it tomorrow."
HoopsWorld reports
that Billups could potentially be finished for the season.
Many of Billups teammates commented in the locker room that Billups was "done", hinting that the Achilles was more than a strain and was in fact a full tear.

Billups left the locker room with his foot in a boot and walking with the aid of crutches and did not speak to media.

One of the Clippers coaches commented under his breath that losing Billups was "a damn shame" shaking his head.
Yahoo! Sports adds this via a source
: "Doesn't look good. MRI tomorrow. I'm sick for him."
Obviously more information will be available Tuesday once Billups has all the necessary tests done, but if the Clippers have indeed lost Billups for the remainder of the season, that could change their positioning in the Western Conference. Not only is he a steady veteran player, but he's also their starting shooting guard. Subtract him and the Clippers' backcourt suddenly gets very thin with either
Mo Williams
or
Randy Foye
having to step into the starting five.
Billups, 35, would likely miss 12 to 16 months if it's an Achilles tear. Regardless of what it is, it appears to be a significant injury that will cost him some time.