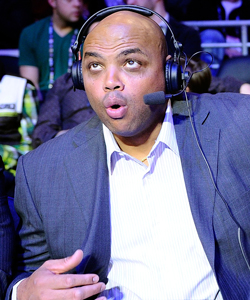 Charles Barkley may have lost big betting on Tom Brady and company.
(Getty Images)
Posted by
Ben Golliver
Congratulations, Gisele, your run as the biggest loser of the post-Super Bowl news cycle is probably over.
NBA Hall of Famer and TNT commentator Charles Barkley is ready to rip the headlines from the lady friend of Patriots quarterback Tom Brady, who
flipped out on Giants fans
after New York topped New England on Sunday.
Yep, it's officially Barkley's turn for public scrutiny. Why? Why else? He apparently lost big money gambling on the Big Game.
In an interview with 97.5 FM in Philadelphia, Barkley told host Mike Missanelli that he planned to wager $100,000 on the Super Bowl. In
a follow-up interview on February 3
, two days before the big game, Barkley revealed the team he planned to bet on: the Patriots.
Here was his reasoning,
via SportsRadioTranscripts.com
.
Who did you put your $100,000 Super Bowl bet on?:

"I'm a big believer in 'In God We Trust,' and I trust in Belichick, bro. I'm going with the New England Patriots. … I'm almost changed the plane to go to Vegas because I wanted to get the 2.5. … Three scares the hell out of me."

And how about a score prediction for the Super Bowl?:

"31-17 Patriots. … I tell you, I don't think it's going to be close. As quiet as it's kept, New England had the worst defense ever to make the Super Bowl, but if you look back at the playoffs, they've been one of the best defenses in the playoffs and I think that's going to continue."
The number of points New England was giving became a non-issue, as the underdog Giants won outright, 21-17.
Barkley, of course, has a long history of gambling losses. In 2006, Barkley said his gambling problem had
cost him roughly $10 million
. In 2008, he was
sued for $400,000
by a Las Vegas casino for unpaid gambling debts. Shortly thereafter, he
announced on TNT
that he would give up betting altogether.
"I'm not going to gamble anymore," Barkley said. "I'm not going to gamble anymore. Just because I can afford to lose money, don't mean I should do it. It was a pain when it broke last week but it's going to turn into a good thing. I'm not going to gamble any more."
He went on to say that his gambling was not an addiction.
"I don't think I'm an alcoholic where I walk around with a bottle or a flask every day. I gamble probably once every two or three weeks to a month. It's not like I'm going every day to get up and look at the lines for sporting events. I like to go to Vegas, it's a fun place. But I've got to stop gambling. I don't see any problem with that."
Barkley did admit in the interview that he could return to gambling in the future.
"I say to myself I'm not going to gamble right now. Is it for life? I don't know the answer to that question. For right now, the next year or two, I'm not going to gamble."
Well, at least that's no longer in question now.