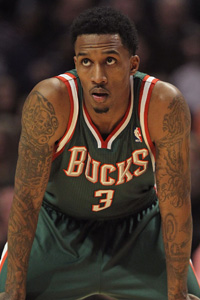 Brandon Jennings is already thinking about leaving Milwaukee as a free agent.
(Getty Images)
Brandon Jennings
is not saying, he's just saying. In other words, he's getting a head start on creating his own version of the Melo Drama in Milwaukee, and he's not even off his rookie contract yet.
A collection of quotes from an overly chatty Jennings from ESPN.com:
"I am going to keep my options open, knowing that the time is coming up,'' Jennings said in an email interview. "I'm doing my homework on big market teams.''

I am going to keep my options open, knowing that the time is coming up. I'm doing my homework on big market teams."

"I'm not saying I won't (sign an extension with the Bucks) and I'm not saying I will,'' he said. "I'm just keeping my options open.''

"When you start seeing other players like Dwight Howard or CP3, you start thinking,'' said Jennings, who is averaging 18.9 points and 5.3 assists for the Bucks.

"It has nothing to do with the city of Milwaukee or anything like that because that's where I started my career,'' Jennings said. "They've been nothing but good to me. (Coach) Scott Skiles and (general manager) John Hammond have been good to me. It's just that I'm understanding the business of basketball now.''
via
Milwaukee Bucks' Brandon Jennings doing 'homework' on big market teams - ESPN
.
Oh, good grief.
Now we're doing this off rookie contracts? That's where this is starting, now?
The common rule is that you take the rookie extension.
Kevin Love
may not be thrilled with how the
Timberwolves
have treated him and has a much bigger complaint and desire to get out than Jennings, but Love took the rookie extension (though he did ask for the three-year opt-out since the Wolves didn't want to sign him to the max, which we still can't believe).
LeBron James
,
Dwyane Wade
,
Chris Bosh
,
Carmelo Anthony
,
Deron Williams
,
Chris Paul
, every single one of them signed the rookie extension. That's how this works, supposedly. You ensure those first six to seven years before moving on.
But Jennings has never been one to go the normal route. He headed off to Europe when he was unsure of his eligibility and wanted to get started making money right out of high school. He famously essentially lobbied for the
Knicks
to take him. He's spoken about playing in New York on a regular basis. And now we're here.
Let's put it simply. If this isn't just a negotiating tactic by his management team, if this is really how Jennings feels, the Bucks are doomed. Completely ruined. They've built everything around Jennings and
Andrew Bogut
(who can't stay healthy to save his life). The Bucks have been unable to build off their momentum of their playoff run. Meanwhile, as BrewHoop notes, the Bucks brought in a player to mentor Jennings, and it hasn't exactly worked out great.
We've also made note of how much Jennings is hanging out with Stephen Jackson, who has had some run-ins with Milwaukee management of his own.

But here's the heart of the issue: John Hammond brought in Stephen Jackson to help mentor Brandon Jennings. It was a calculated risk, bringing in someone with as volatile a personality as Cap'n Jack (especially in the same locker room as Scott Skiles). And lo and behold, mentor is exactly what Jackson has done.

Jackson wants out of Milwaukee, that much is clear. He simply doesn't like it here. But with Jennings under his wing, not to mention their lockers side-by-side, can we really say that we expected this to end well?
via
Everybody Panic! Brandon Jennings "Keeping His Options Open" - Brew Hoop
.
So here we are, and it could be the start of a downward spiral. Jennings wants to skip the natural process and go right to "holding your team hostage to go to the team you want." Bucks fans in denial regarding him saying he's not ruling out Milwaukee, I direct you to comments from any player above and the fact that not a single one outside of Wade has re-signed. Once a player gets in his head this is the way, that's how it goes down.
Can the Bucks match any offer in restricted free agency? Sure. Unless Jennings refuses to sign an offer sheet, then takes the qualifying offer for his fourth year with the Bucks, then becomes an unrestricted free agent the following summer. It's difficult to get out of a rookie extension. It's not impossible. The fact that Jennings is starting this conversation now, in the middle of a season, with the Bucks the eighth seed if the playoffs started today, is not a good sign for Milwaukee.
Bucks GM John Hammond is officially in the weeds. Defusing this situation would be a smart approach. These aren't quotes from sources close to Jennings. This is straight from the horse's mouth.
It's danger time in Milwaukee.