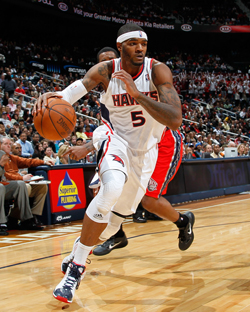 Josh Smith is upset by his All-Star snubbing.
(Getty Images)
Posted by
Ben Golliver

No matter how many times NBA players, coaches and analysts remind the world that the All-Star voting process is "all politics," snubbed players with legit candidacies still get bent out of shape over not being selected.
This year's prime example: Atlanta
Hawks
forward Josh Smith, who is averaging 15.9 points, 9.3 rebounds, 3.3 assists, 2.1 blocks and 1.4 steals while shooting 46.7 percent from the field in 34.4 minutes a night. The Hawks are currently 18-9, good for fourth in the Eastern Conference. That's a strong, strong resume, but Smith was left off the
final Eastern Conference All-Star team
in favor of guys like teammate
Joe Johnson
, Chicago
Bulls
forward
Luol Deng
, Philadelphia
76ers
forward
Andre Iguodala
and Boston
Celtics
forward
Paul Pierce
.
The
Atlanta Journal-Constitution
captured Smith's predictable explosion
here
and
here
.
"I guess I don't know the right people or kiss enough [butt]."

"You've got to factor in there is a lot of politics involved in the All-Star selection," Smith said Friday. "Once you get that it's really about politics, then nothing really surprises you. I call it 'Nothing But Associates,' NBA. It's all who you know."

"I can't really point a finger and blame anybody because, at the end of the day, when you leave it up to certain people that still have ties to their agents, [and] players in this game today probably [are] just putting in a bid over the phone, or however they do it," he said. "You have to factor that in."
Smith finds himself at a familiar crossroads, one that faced Portland
Trail Blazers
forward
LaMarcus Aldridge
when he got snubbed last season. Both players stand no chance of being selected as starters by the fans, and are thus at the mercy of the league's coaches to select them. Players in that situation can continue to rage against the system and hope that at some point their play is so sensational that the coaches will be forced to vote them in on merit, or they can increase their odds by making small concessions to the system, getting their hands a little bit dirty in the political game.
For the private Aldridge, that meant opening a Twitter account, doing far more interviews -- national and local -- than he had done before, opening up about his mother's battle with cancer, and being supported by his coach (who lobbied for him) and organization (who produced Beats By Dre Headphones and sent them out to the other coaches and national media members). A little bribery goes a long way in political situations, obviously.
Smith is entering his prime after getting slapped with the "immature" tag early in his career. He's absolutely right: On talent, he is an All-Star. But he plays on a balanced, good-but-not-great, off-the-radar team and that makes it difficult for him to be selected because he's battling his own fan-friendlier teammates, like Johnson and center
Al Horford
, for selection year after year. He's also constantly going to be in a dogfight with the second best player on the East's elite teams for one of those finals spots.
Put it together, and Smith is facing a stacked deck. But a political consultant would look at this situation and see nothing but opportunity, given the high level and consistency of Smith's play over the last five years. Smith's story starts with winning, as he is one of the league's top 2-way players and the Hawks are headed for their fifth straight playoff appearance. It continues with his evolution and maturity as a player, a story he could tell -- through gritted teeth, surely -- in a few well-placed media interviews, where Smith could give the credit to his coach(es) and offer a candid personal vignette about the turning point when life in the NBA world "clicked" for him. That stuff sounds corny, and it is, but it also works, and it would be more than enough to build some buzz these days.
The question facing Smith is whether going down that road is an acceptable compromise or whether he would prefer to be totally annexed from the "Nothing But Associates" culture. All-Star Weekend is a giant circus seeking performers to help sell the story. Note the words "circus," "performers" and "sell," none of which jives particularly well with Smith's brash, take-me-as-I-am style. Again, this is up to Smith. The snubbing can be avoided in the future, but it will take some higher-level campaigning.