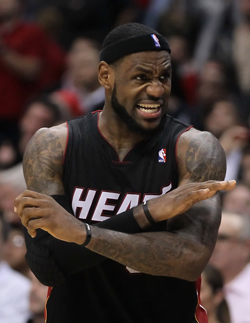 LeBron James reportedly got into it with a fan on Friday night.
(Getty Images)
Posted by
Ben Golliver

The unsubstantiated rumor that simply will not die has reportedly prompted a profanity-laced verbal exchange between Miami
Heat
All-Star forward LeBron James and a fan of the Washington
Wizards
.
James and the Heat defeated the Wizards, 106-89, at the Verizon Center on Friday night. As James put together 18 points, 9 assists and 2 rebounds in the victory, a fan allegedly began making loud comments about a rumored 2010 relationship between James' mother and then-Cleveland
Cavaliers
teammate
Delonte West
.
Deadspin.com notes
an
NBCWashington.com report
with details of the exchange.
LeBron just got into a verbal altercation with a fan. Spoke to the fan. Wanted to give Heat PR time to comment on the LeBron fan altercation. I'll update you if they end up doing so, but here's the story.

I saw a Wizards fan and LeBron in a heated conversation on the sideline during the game Friday night. I spoke to the fan and got his side.

Fan Bob Moore made a comment to LeBron about Delonte West and LeBron's mom… [According] to Moore, LeBron said "The only reason you talk s*** is because you know I can't come off the court right now and beat your a**."

Also according to Moore, LeBron continued "But if I had a free pass, I'd kick your a** right now." Moore replied "I'm right here baby. Let's go" before security stepped in.
James' behavior runs the entire spectrum from "role model" to "insufferable," but the strong temptation here is to give him a pass. This isn't the first time James has reportedly been in this type of situation and it won't be the last. He surely feels like the reasonable, "If you disrespect my mother in public, any response is fair game" argument is in play here. Sure, he's a global brand and a "King," but he's a person, too. Defending the virtue of one's mother is an inalienable human right.
Should James be held to a higher standard of conduct than that, given his level of fame and the scrutiny that follows him wherever he goes? Sure, in an ideal world he would ignore it, brush it off, or let security handle it. The heckler wins this one because he got James to engage with him, but at least James leaves the situation knowing that he stood up for his mother.
Even so, if you're the Heat, you respectfully request that James inform you first of future fan comments so that an exchange like this doesn't wind up caught on video and posted to YouTube, where it could do some serious damage to his image if viewed out of context.