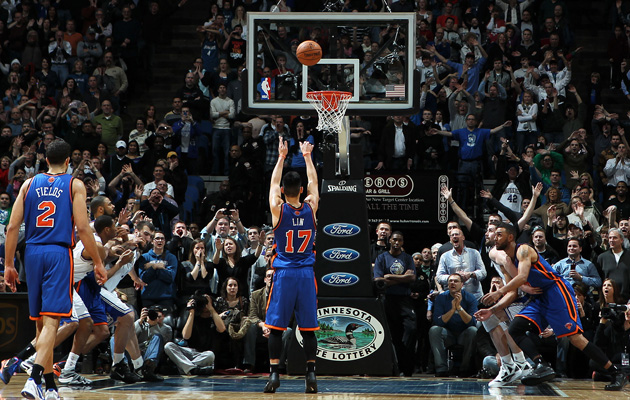 Jeremy Lin was just 8-24 from the field Saturday but still got the win.
(Getty Images)
By Matt Moore
And now the fun part begins. Jeremy Lin is no longer undeniable nor deniable after the
Knicks
'
100-98 win
over the
Timberwolves
. Let me take you down the road of point/counterpoint that will be hashed and re-hashed over the next 48 hours.
"Lin got the win, that's all that matters."
"Lin was inefficient and missed 14 shots from the field."
"Lin managed to pull 20 points and 8 assists while playing a quality defensive team surrounded by
Tyson Chandler
,
Steve Novak
, and
Landry Fields
as his best weapons."
"A good story doesn't erase a poor game."
"It was the Knicks' third game in four nights, and a back-to-back. The kid has logged long minutes. Everyone gets tired this year."
"It was against the 13-15 Timberwolves."
"The Wolves are 15th in efficiency differential (12th in defensive efficiency), were above .500 before the
Kevin Love
suspension. And didn't the win over the
Lakers
kill the 'strength of schedule' argument?"
"The defense figured him out in the second half."
"Not enough."
And both sides are correct. It was not a great performance by Lin, but it was enough to help the Knicks win. It was inefficient, but highly productive. Lin made some poor plays, and some brilliant ones. Lin is entering the next phase of what happens when you're a phenomenon. And while Lin is not worthy of being compared to the great players of this league, not even close, if we examine this five game stretch as a microcosm of how analysts, fans, and media react to polarizing players, this is the next evolution.
Good enough for the supporters to herald, poor enough for the backlash to begin. Did he win the game, even when he hit the game-winning free throw, or was it defense and poor execution by Minnesota late that kept the Knicks' Linning streak alive? Did he struggle because he was exhausted from hoisting a team without
Carmelo Anthony
and
Amar'e Stoudemire
, half their payroll, and on a back-to-back, third-in-four? Or was it Minnesota figuring him out?
The debate will rage. His supporters are validated by the simplified 20-8-6-3 line and a win, the backlash buoyed by his turnovers and shooting percentage. And the answer lies in the middle.
Lin was clearly exhausted, as the elevation on his second-half shots reveals. He would land and take longer to recover to his feet. He looked winded, he drifted to the edges at times, and admitted after the game everyone was tired.
But Lin also admitted that the Timberwolves did a good job defending him. And they did. It's been no secret since Lin's first explosive performance that the key is forcing him left. Lin is notably weaker with his left, and in fact, the Wolves shaded him constantly to his left. When Lin attempted to move right in the pick and roll, a second defender would pop to the elbow to drive him back left.
That said, Lin missed several very makeable shots going to his left, including a floater over
Nikola Pekovic
and a bank shot over Love. Pekovic may have been the biggest difference maker. Not only did he challenge Lin at the rim, but he managed to keep with him laterally without fouling. Most teams don't have a defender of that quality (speaking of players who came out of nowhere), but it does show that Lin is more than mortal.
And yet.
Lin also forced several possessions, often getting into the air and trying to finish with floaters over three defenders instead of passing out to a wide-open corner man, which he has done so much during this streak. Some of that is exhaustion wearing on his decision-making. Some of it is just forcing it.
Do we need to make excuses, though? Hasn't Lin already proved himself, especially since he had a poor game by the new established standards for him and still won the game with 20 points and 8 rebounds? Should we hold him to a higher standard, considering what should be lowered expectations?
It's too late for all that. This thing has taken on a life of its own. And you have to wonder if that was the real difference against Minnesota. The Knicks played well defensively. They got some breaks. Lin was productive but not efficient. But as much as I try and boil things down to metrics and plays and X's and O's, it's hard to watch this game and not walk away with a simple conclusion.
Some things can't be stopped. And while the rollercoaster has to end sometime, right now? Nothing has been able to stop Linsanity. Minnesota is just the latest to experience it.