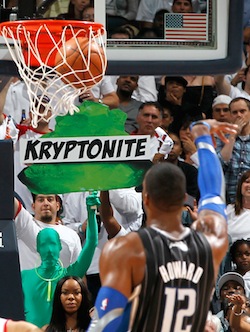 If Howard wants the ball in the fourth, he's going to need to do better than 49 percent at the free throw line.
(Getty Images)
Posted by Royce Young
There's often a trend with pretty much every Orlando
Magic
game.
Dwight Howard
dominates for three quarters and then fades in the fourth taking only two or three shots.
Why? Because defenses clamp down, clog the paint, foul him when he gets it near the basket and he doesn't have teammates that can create good opportunities for him. It's not like someone like LeBron disappearing. Howard can't really help it. He doesn't handle the ball, can't create for himself and in general, has to be set up with opportunities.
But he wants the ball. He wants to be a fourth quarter player. He wants to start shouldering that load, on his very oddly wide shoulders.
Via FoxSports.com
:
"I do want the ball more in the fourth quarter," a frustrated Howard told FOX Sports exclusively after the game.

"I want to become a closer. The only way you get there is by getting the ball and have coach have the confidence in giving me the ball.

"That's how Kobe (Bryant) and the rest of the great fourth-quarter players got that way. It's trial and error. When Kobe first got in the league, it took him a while to become the killer he is in the fourth quarter now. That's because he went through that phase where he had to learn what shots to take and just get confidence in taking shots in the fourth quarter.

"That's one thing that I want for myself, so I can become the guy who finishes games for my team. I want to be that guy whose team wants him to close games out for them. Coach just needs to have confidence in me."
Obviously the Magic would love for him to be that closer too, but as I mentioned above, there are obstacles. The most obvious one being Howard has to do better at the free throw line. He's shooting just 49 percent from the stripe this season (a career-low, by a longshot) and hasn't ever shown the ability to be a consistent back-to-the-basket scorer. He gets a lot from lobs, putbacks and just overpowering his defender.
Howard doesn't care though. He wants the ball.
"Just run plays through me, so I can be comfortable in being the guy and have confidence in getting the ball late in the game and scoring," Howard said.

"That's what I'm worth. I want to be that guy who controls games. As a kid, that's what you dream about in the NBA, taking that shot. I want to do that.

"I'm the leader of the team. Ride my back. I'll lead. I don't care if I miss every single shot, I'm going to continue to play hard. Just get on my back.

"That's why they call me Superman."
Actually, I'm not sure THAT'S why. I'm pretty sure it has more to do with you putting on a cape and calling
yourself
that, but whatever. Not the point.
It's such a challenge to do that with a post player though. It's so difficult to rely on a guy on the block to hit a crucial late game shot. Shaq was sort of an exception, but still, he faced challenges of Hack-a-Shaq and Kobe getting him the ball.
The Magic have always been most dangerous when they play inside-out with Howard drawing extra defenders and then kicking out to a shooter or to someone who can penetrate a rotating defense and then dish again. They've never really succeeded just dumping the ball to Howard and letting him go to work. He doesn't have the footwork or touch to really do that.
But he wants the shot. And at this point with his future in the air with Orlando, it might be best to just give him what he wants.