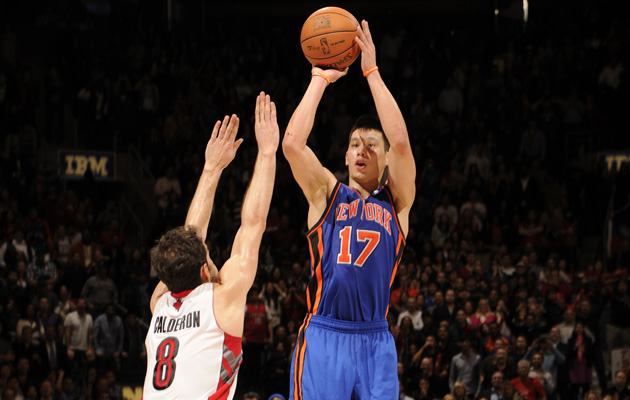 Jeremy Lin's last-second three-pointer lifted the Knicks to their sixth straight win Tuesday night.
(Getty Images)

By Matt Moore
What can you say?
It looked like it was over. It did. The whole big phenomenon/meme/basketball-cultural
revolution seemed shaken to its core in the first half. A double-digit deficit. A plethora of turnovers. Missed layups. Poor team defense. The works. Oh, well, it was fun while it lasted. Remember that one time when that kid from Harvard...
And then, all of a sudden.
It happened. Again.
And we're all left with is this reality:
Jeremy Lin
did it again, Linsanity is alive, the Knicks have won six straight, and the circus is only going to get wilder.
We'll get to Lin's
game-winning three-point jumpshot
in
Jose Calderon
's eye soon. But if you want the reason the Knicks were able to jump back on the
Raptors
who led from opening tip till a minute left in the fourth, the Knicks defense has to be credited. Yes, you read that right. In reality, the game was a defensive battle, with Dwane Casey's Raptors harassing Lin into eight turnovers and 9-20 shooting. On the other side, though, when the Knicks needed stops down the stretch, they got them. Rookie
Iman Shumpert
was supposed to be an offensive weapon but his shooting is still incredibly inconsistent and his decision-making is terrible at times. But when Mike D'Antoni stuck the young shooting guard on Jose Calderon who was terrific for 45 minutes for Toronto, the kid responded by locking up the shooter and creating steals. It was his transition buckets that lit the Knicks' fire and put them in a position for Lin to score the final six points.
Lin delivered a driving double-clutch pull-up and-one under the basket to tie. Then off of a transition short-range jumper miss by Shumpert,
Tyson Chandler
tapped an offensive rebound back to let the Knicks reset the offense. So to review, tough defense, rebounding, and smart plays, setting up Lin. That's when things got epic.
Lin told reporters after the game that he wasn't looking back to Mike D'Antoni to see if he wanted a time-out. He was looking back to ask D'Antoni to let him isolate Calderon. Here's Lin, the entire world watching, having shot 8-19 from the field, having had his dribble attacked all night, asking his coach, on the road, to let the undrafted free agent clear-it-out for the win, without a timeout taken in a tied ball-game.
Jeremy Lin, that kid's kind of bold.
And it landed, again, and the place went nuts and Twitter went nuts and no one can believe it, least of all Lin.
Lin referred to it as a miracle after the game. But this wasn't a wild, desperation, eyes closed heave. It was a cold-blooded, look-you-in-the-eye-so-you-know-who
-killed-you, born-from-confidence dagger that comes with confidence and skill and rhythm. Lin's story reached a new zenith Tuesday night. You can believe it's going to happen, but you can't believe what you saw. That Lin could fight through all the troubles he had and still deliver the final six, in the dramatic way he did, you don't draw it up. It wasn't a great game for Lin. It was the second time in two games that Lin did not play well, that his weaknesses were exposed... and he still made more than enough plays to come through. 27 points on 20 shots is efficient, and 11 assists to 8 turnovers is not good but it's still a lot of points created.
But you know, that's all X's and O's and numbers.
Something is happening, and to be honest with you, no one really understands it, not even Lin. But it's happening. There are things that happen in sports that are not only why we watch, but they are the things we remember. If Lin craters to Earth against Sacramento Wednesday or through the rest of the season, if he never plays another game, this two-week stretch will be talked about. It may just be the kind of thing people talk about in bars. It could be the stuff of legend discussed forever as the start of something phenomenal. But for right now, it's important to enjoy what's happening. Lin's not a divisive character, he's not preaching or doing anything but living up to his potential. Cynical, bitter writers who have been doing nothing but torch what has happened in the NBA for the past two years are filled with a sense of wonder over this incredible story.
This is sports, it's fun, it's Linsanity. Live in it.
In conclusion, are you freaking kidding me?!
What else can you say?