Posted by Royce Young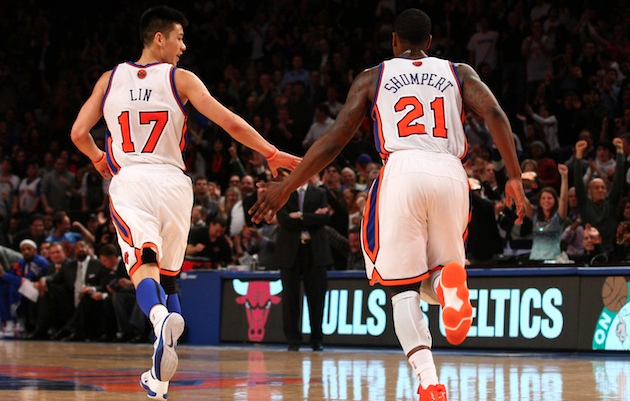 He won't be dunking, but Linsanity could have a role in the dunk contest.
(Getty Images)
The 2012 dunk contest participants will be
Paul George
of the
Pacers
,
Derrick Williams
of the
Timberwolves
,
Iman Shumpert
of the
Knicks
and
Chase Budinger
of the
Rockets
, the NBA announced Thursday.
But that's not all. I guess in an effort to spice up the field as well as find a way to work Linsanity into All-Star Weekend,
Jeremy Lin
will also be playing a part.
According to ESPN.com
, Lin will be "assisting" Shumpert in some way, much in the same way
Baron Davis
helped out
Blake Griffin
at last year's contest.
The New York Daily News also reported that Lin would be part of the "Shooting Stars" competition, meaning he'd already be in the arena for All-Star Saturday night. David Stern has already said that Lin would not be a late addition to the Rising Stars game.
There will be a revamped format that will feature only one round and be voted on only by the fans. There no longer will be judges in the event, which also will be reduced to one round. Each contestant will execute three dunks. Fans will determine the champion by voting on NBA.com, Twitter or through text messaging. The format in recent years was two rounds, with a panel of judges voting on the first round before fan voting in the second.
As for the actual contest, it's a pretty weak field with no big name stars. Actually, when you really look it over, it might the weakest there's ever been. No disrespect to the participants, but none are exactly well known players to the casual NBA fan. Maybe Williams, just because the was the No. 2 overall pick.
Last year featured Blake Griffin,
JaVale McGee
,
Serge Ibaka
and
DeMar DeRozan
, four fairly well known players. This year has two rookies and two role players. Not exactly an eye-popping group. But let's break the field down anyway.
I'd say the early favorite has to be Williams, who is a bit in the Griffin mold of a big man with freakish leaping ability. He can always employ his teammate
Ricky Rubio
, who surely could zip a fancy pass Williams' way. Paul George is long and can jump. Budinger participated in the McDonald's All-American dunk contest in high school and has always been known as a big leaper.
But it might be hard to top Shumpert. Not because he's some fantastic dunker, but because of this being a fan vote thing and if he indeed brings along Lin, the people will likely speak on the side of the not just the Knicks, but of Lin.
I suppose the NBA is banking on Lin's "assisting" star power to give this contest a bump. Players are less and less inclined to participate in the event for the risk of injury and just the fact it's a stressful thing to add to an already busy weekend. Plus, the league sees it as an opportunity to welcome new faces to the casual fan with the possibility one of the guys does something unexpected and amazing.
Vince Carter
was a rising star, but he exploded as a household name after his dunk contest performance.
It might be a weak group lacking big names, but we'll all be watching anyway. And if you've watched much Paul George or Derrick Williams, you know that those two can fly. Who knows, we might be in for a pleasant surprise.