Posted by
Ben Golliver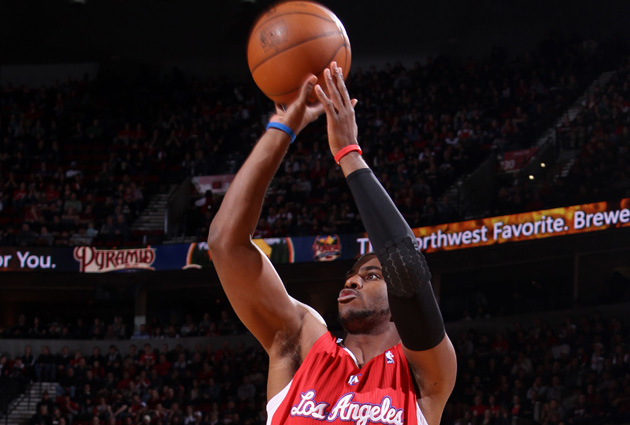 Chris Paul shot the Clippers past the Blazers in a strong fourth quarter performance.
(Getty Images)
PORTLAND, Ore. -- An anticipated four quarter battle for power forward supremacy was replaced by one quarter of point guard brilliance.
The Los Angeles Clippers faced the Portland Trail Blazers for the third time this season, the teams having split the first two match-ups. Instead of the latest installment of LaMarcus Aldridge vs. Blake Griffin -- All-Star vs. All-Star -- the Rose Garden crowd was treated one of the ugliest "lockout" games of the season, as Aldridge was forced to sit for the second straight game with a sprained left ankle he suffered on Tuesday night.
The Clippers pulled it out, 74-71, with the flat, ugly game being broken open in the fourth by Chris Paul, who managed to find a way to turn a manure night into gold down the stretch.
Through three quarters, Paul was 0-for-7 with three turnovers. An 85 percent career free throw shooter, he even missed a technical foul during the first minute of the second half. In the final quarter, though, Paul shot 5-for-8 to finish with 13 points. He had two of his four steals in the fourth, nailed a three-pointer with roughly three minutes remaning and then sank a jumper with just over a minute left to send large swaths of the crowd th the exits early.
"It's just a matter of time before Chris starts taking over the game," said Clippers coach Vinny Del Negro. "When it gets close he wants the ball in his hands, not only to score but to make the easy plays… Having Chris out there to control things is a great weapon."
"All the shots I missed are shots I can make with my eyes closed," Paul said. "I pride myself on the last two or three minutes of the game. If we're up two, or down one, I pride myself on managing situations, [forcing] turnovers, getting good shots. I'm used to it."
Turnovers were in abundance and good shots were not fort both sides. The Blazers scored more than 17 points in just one of the four quarters: 27 in the first. The Clippers never broke 22 in a quarter. The teams combined for 34 turnovers, the Clippers shot 2-for-17 from deep and the Blazers, not including Nicolas Batum, combined to shoot 19-for-55 (34.5 percent). Griffin worked hard for 21 points and 14 rebounds, dealing with all sorts of defensive looks along the way, but no one else, not even Paul, left this game with a complete night.
Blazers guard Raymond Felton probably captured the flavor of the evening better than anyone, failing to make a basket in seven attempts while throwing a ball into the stands, stepping on the sideline, and chucking a pass off of Kurt Thomas's ankles while he was standing 25 feet from the basket. He wound up sitting during crunch time, as fellow guard Jamal Crawford was only able to do slightly better.
"We didn't execute, of course, down the stretch," Blazers coach Nate McMillan said. "We basically got stagnant and it became a one on one basketball game."
The extenuating circumstances that led to that type of game were clear. Portland was on the third night of a back-to-back-to-back, made worse by the middle game being at Golden State. The Clippers were on the second night of a back-to-back themselves. L.A. managed to have the legs when it mattered, taking the final quarter, 22-11, to win their first game in Portland since Dec. 11, 2008.
"I've been in this situation time and time again," Paul said, amid shrieks of laughter from his teammates in the showers. "When you're in games like this it comes down to certain plays, teams tighten up. It all comes down to who makes the big plays."
The Blazers certainly tightened up, giving away an 18-point third quarter lead and dropped to 2-10 in games decided by five points or less. Portland has handled late-game situations uneasily even with Aldridge, their No. 1 scorer. Without him their possessions often amounted to hopeless prayers.
"I'll call it a self-destruction," McMillan said.
That self-destruction included Felton's follies and an inability to engage Batum, who scored 15 first quarter points but finished with 19, missing his only fourth quarter attempt. With Portland coming up empty play after play, the door opened wide for Paul.
"I don't now if he was playing possum or if he found the energy in the fourth quarter to keep going, but he definitely took over the game," Crawford said.

"It's the fourth quarter, it's one of those things where nothing else really matters," Paul explained. "When you're a team trying to build something like us, you've got to win ugly games like this sometimes."