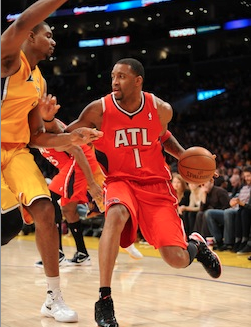 T-Mac is pretty upset about his playing time in Atlanta.
(Getty Images)
Posted by Royce Young
When
Tracy McGrady
signed with the
Hawks
before the season, he knew he wasn't going to be playing a prominant role. He knew that, much like in Detroit last season, he'd likely be coming off the bench and would likely be playing less minutes than he did earlier in his career.
Last season with the
Pistons
, he did a great job with it. He played his role, did his job and didn't say anything about it. But that was with him still actually having a real role with the team. With the Hawks, he's seen his time on the floor cut game after game, with him not playing at all after halftime against the Hawks Saturday.
And McGrady's had enough. So he let it all out,
via the Atlanta Journal-Constitution
:
"I'm tired of this [bleep]," McGrady said. "You can put that in the paper, I don't give a [bleep]."
McGrady has played in 26 of 32 games for Atlanta this season for an average of 18 minutes before Saturday's game. Last season with Detroit McGrady averaged 23 minutes in 72 games.
As for the why, McGrady says coach Larry Drew hasn't given him a reason.
"If you don't feel I can help, come tell me that," McGrady said. "He ain't told me nothing. I just want to help these guys win, man, which I know I can. But, damn, four minutes?"
Drew has previously used the excuse of wear and tear for limiting minutes, but McGrady says he's feels terrific and if he didn't, he'd say so and not play. If he's in uniform, he expects to play.
Does he want out? Under league rules, he's eligible to be traded on March 1. But he's not ready to go there yet.
"Hopefully, I'm here," he said. "I like it here. I like the guys. That's what I love most about it. I like the guys in this locker room. But at the same time, I still can play. No doubt in my mind."
McGrady signed with the Hawks to help a playoff team hopefully contend. He expected to play a big role and get his time. He's frustrated and if Drew is saving him, that's got to be communicated. Otherwise, you're going to have a disgruntled veteran and that's not a good thing for a locker room to have to deal with.
The Hawks need McGrady because their depth has been challenged. The team isn't going anywhere, but if they're to stay in the Eastern playoff picture, they're going to rely on players like McGrady giving them good minutes. He's not psyched right now, and wasn't afraid to say so. You know Larry Drew has heard it, so we'll have to see if anything changes. If not, something might be happening March 1.