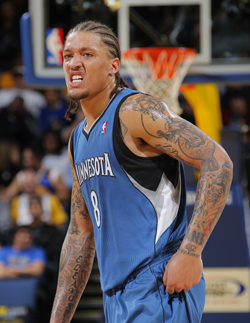 Are the Lakers looking at Beasley?
(Getty Images)
Posted by Royce Young
The idea is that at some point,
Michael Beasley
will find himself in the perfect situation. He'll have the right support system, the right teammates, the right system and as a result, he finally realize some of the talent he has. Because the guy has got talent. Loads of it. It's why he was drafted second overall and why the
Timberwolves
were more than happy to welcome him despite not really having a good spot for him.
It hasn't exactly worked out with Minnesota and with the Wolves drafting
Derrick Williams
, Beasley just doesn't really have a place.
Then there are the Lakers, a team trying to make a deal to salvage a makeshift roster. Perfect marriage for a deal, right? Well, the Lakers like Beasley,
according to ESPN.com
:
The Lakers' front office knows Kobe Bryant is looking for it to improve the roster, and GM Mitch Kupchak has been working the phones. He's spoken to Minnesota about Michael Beasley, and sources say the Lakers are intrigued by the Timberwolves' small forward. The Lakers were actually in discussions with Minnesota about a potential trade for Beasley before the season started. If they would have been able to pull off the deal for Chris Paul, there is a good chance that a trade for Beasley would have followed.

It's not clear what the Lakers would give Minnesota for Beasley (if indeed the talks get that far), but the Lakers could absorb Beasley into their $8.9 million trade exception while giving up a draft pick or cash. I'm told the teams have not spoken about Pau Gasol since the preseason. Minnesota is looking to move Beasley, who they feel has matured very little (if at all) since he's been there, according to sources. The Lakers believe they can handle a player like Beasley because of their winning culture and the leadership of Bryant.
The Lakers need more help than just Beasley, but like I said, the guy is just dying for that right place. Rasheed Wallace finally found it with the
Pistons
and look what happened. Beasley has serious ability. It's just got to click for him.
According to the report, the Lakers are also looking at acquiring a point guard, a position that needs a lot of help. They worked out Gilbert Arenas last week, but evidently haven't made a decision there yet. There are other point guards on the market like
Ramon Sessions
and the report says the Lakers might be able to grab Sessions for a first round pick.
I think the deals are coming for the Lakers. Maybe not a blockbuster involving Pau Gasol or
Andrew Bynum
, but something. That trade exception is just sitting there and it's hard to believe they truly gave up
Lamar Odom
to a Western contender for basically nothing.
I like Beasley with the Lakers too. I think it's a fit. He can forget about trying to carry a bad team for once and concentrate on his strengths. He can fit in alongside Kobe and Gasol and let those guys lead the way while he follows. It might take a bit of an attitude adjustment from him realizing maybe he's not going to score 20 points a game, but if he's willing, he still has a lot of bright years ahead of him.