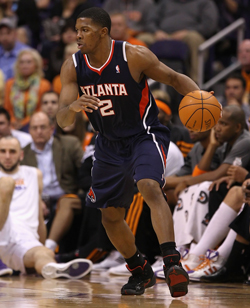 Joe Johnson will undergo an MRI on his knee.
(Getty Images)
Posted by
Ben Golliver
UPDATE:
Johnson's MRI revealed left knee tendinitis and he will miss Atlanta's next two games and will also sit out the All-Star Game.
---
It looks like Joe Johnson's All-Star break will be a little bit longer than expected.
The Atlanta
Hawks
announced that Johnson will miss his team's remaining games this week to return to Atlanta to undergo an MRI on his left knee. Johnson left a Monday loss to the Chicago
Bulls
in the third quarter after injuring the knee.
Johnson, selected to his sixth straight All-Star Game this year, will not play as the Hawks travel to New York to play the
Knicks
on Wednesday and then a home game against the Orlando
Magic
on Thursday.
His status for Sunday's All-Star Game in Orlando is currently unknown. Most players in this situation would play it "better safe than sorry." He is Atlanta's only All-Star representative.
Johnson, 30, is averaging 17.6 points, 3.8 assists and 3.8 rebounds in 35.8 minutes per game this season. He had appeared in every game for the Hawks this season.
The Hawks are currently sitting in third place in the Southeast Division and sixth place in the Eastern Conference with a record of 19-13.
Johnson signed a 6-year, $123 million contract with the Hawks in July 2010, a deal that runs through the 2015-2016 season.