Posted by
Ben Golliver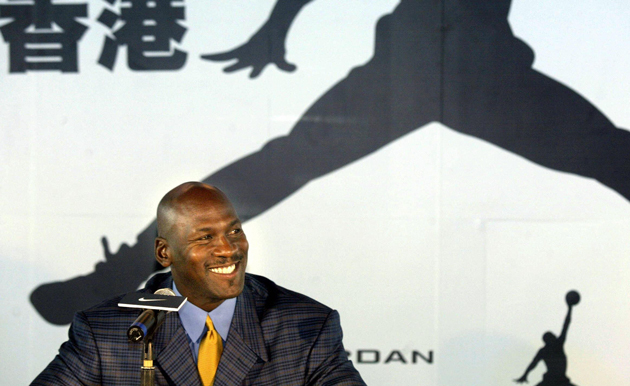 Michael Jordan is headed to court in China to defend his likeness.
(Getty Images)
Lawsuits don't usually come with a website and a promotional video, but I guess Michael Jordan isn't your average plaintiff.
The Basketball Hall of Famer, Chicago
Bulls
legend and Charlotte
Bobcats
owner has announced that he is suing a Chinese company for misrepresenting his name and brand. Jordan is suing Qiaodan according to
documentation provided on TheRealJordan.com
. The Chinese company's name, Jordan's lawsuit alleges, is a "well known" translation of Jordan's name.
"A Chinese sports company has chosen to build a Chinese business off of my Chinese name without my permission," Jordan explained in a video message on the site. "It pains me to see someone misrepresent my identity. I have no other choice but to turn to the courts."
Jordan's name serves as the title for a global sneaker company and an iconic image of him dunking serves as the brand's famous "Jumpman" logo.
"I've established a name, a likeness and an identity that represents me, personally," Jordan said. "When you see the Jordan Brand it's a direct connection of who I am, Michael Jordan. I've always thought my name means everything to me. It's something that I own. When someone takes advantage or misrepresents that, it's up for me to protect that."
According to the website, Qiaodan generated more than $450 million worth of revenue in 2010 alone.
"It's not about money, it's about principle," Jordan said. "Your name is your DNA, I think it's a violation and you want to protect it."
Jordan's lawsuit makes the following accusations,
according to the website
.
Qiaodan Sports has infringed upon Michael Jordan by illegally using his name on its products: Michael Jordan has never authorized Qiaodan Sports to use his name, yet the company has registered several trademarks that include his name and reference his registered brand and his career.

Qiaodan Sports' use of Michael Jordan's name and its aggressive marketing tactics have misled Chinese consumers: Qiaodan Sports uses these names without permission in large scale advertising campaigns, including entering a sponsorship agreement with China Central TV (CCTV) at the World University Games and sponsoring Federation Internationale de Basketball Amateur from 2008-2010. In 2009-2010, Qiaodan Sports broadcast its name and logo courtside during U.S. NBA games broadcasted in China. A Shanghai sports product marketing company conducted an independent survey involving 400 respondents in 2009. The survey found out that 90 percent of young people in China's small cities believed Qiaodan Sports was Michael Jordan's own brand in China.

Qiaodan Sports has profited from consumer confusion created by its misuse of Michael Jordan's image and reputation: With over 30 franchises and 4,000-5,000 specialty stores, Qiaodan Sports revenue totals have grown from $45.6MM in 2007 to $456.3MM in 2010.
Jordan's website also states that any monetary compensation resulting from the lawsuit "will be invested in growing the sport of basketball in China."
Clearly, this is big business versus big business in the world's biggest market. A legal undertaking such as this was likely years in the making.
Hat tip: CNBC.com
.