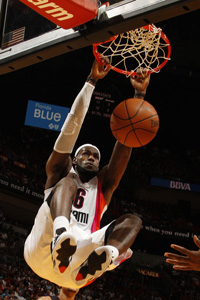 LeBron James would consider the dunk contest, for a price.
(Getty Images)
Posted by Royce Young
ORLANDO -- It's been NBA All-Star Saturday's Moby Dick.
LeBron James
, and his superhuman athletic ability, in the dunk contest.
Without ever really having the intention to participate, LeBron has often dropped hints like he would. He indicated he might during the 2010 All-Star Game in Dallas and then didn't rule out the notion for this year's in Orlando. But LeBron has never intended to dunk.
"It's not me," he said Friday. "I'm not a dunk contest type of guy. I'm an in-game dunker. I kind of improvise during the game.''
But what if there was a prize? LeBron was asked if someone tossed a $1 million winner-take-all bounty on it, if he'd take part.
"Then I'd reconsider," he said "Wouldn't you?"
Yeah, I definitely would, but I also can't jump-fly like LeBron James. So I'm not entirely sure that's applicable, LeBron.
Not to unnecessarily rag on LeBron here, but like every other player, he loves to talk about how All-Star Weekend is about the fans. It's a showcase for fans to enjoy the game, see the stars and celebrate the NBA. Which is why people want LeBron in the dunk contest. Because it would be a ton of fun for fans. Except LeBron says he'd only consider if you paid him a million smackers. Not a great look.
On the other hand, LeBron is someone worth upwards of $50 million but an extra million is an extra million. And despite LeBron saying he's an in-game dunker, you know he'd blow us away.
Blake Griffin
said the same thing and I'd say his dunk contest performance was acceptable.
The great ones have all dunked though. Players like Michael Jordan, Julius Irving,
Kobe Bryant
-- they all took time to do it. That doesn't mean LeBron should feel inclined or obligated, but if it's a status thing, he shouldn't worry about it.
So if you want to see LeBron dunk, start raising some money to hand to the winner. Otherwise, I wouldn't bank on King James playing along.