Posted by
Ben Golliver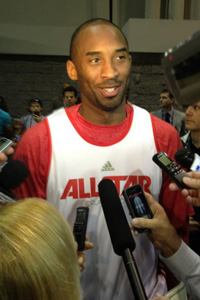 Kobe Bryant took questions on All-Star Saturday.
(CBSSports.com)
Los Angeles
Lakers
guard Kobe Bryant
skipped out
on Friday morning's All-Star media availability, citing illness. Later Friday, he magically recovered for a promotional appearance, and he looked in fine form Saturday morning while being swarmed by international media members prior to All-Star practice.
It didn't take long for Bryant to reveal the real cause of his illness: questions that irritate him.
"What type of question is that to ask me? Are you kidding me?" Bryant said, when a reported asked if he would root for the Los Angeles
Clippers
if they made it to the NBA Finals. "Man, I was sick the other day so I didn't have to hear this."
Further prodded for his preference in a hypothetical match-up between the Clippers and the Miami
Heat
, Bryant cocked his head to the site, as he is wont to do, and said, "Huh? I'd be on an island somewhere."
Jeremy Lin
Bryant experienced "Linsanity" first hand when New York
Knicks
guard Jeremy Lin exploded for a career-high 38 points against the Lakers at Madison Square Garden in February.
Before that game, Bryant said he wasn't really aware of Lin's game, but afterwards he sang a different tune, extending a complimentary review of the performance.
On Saturday, he went a different direction, attacking the NBA's talent evaluators for doing exactly what he had done in February: overlooking Lin's abilities.

"The biggest thing to me is how everybody missed it," Bryant said. "They all would be fired if I was the owner of the team. I hear this stuff about it coming out of nowhere and it's a load of crap… There had to be something there and everybody missed it."

Dwight Howard
Orlando Magic center Dwight Howard continues to draw the biggest media crowds with the game in his backyard and his future up in the air.

"It's a little awkward. It's a little awkward," Bryant said of the fact that Howard's trade demand is hanging over All-Star Weekend.

He then seemed to express some sympathy for Howard's frustration, perhaps hinting at his own feelings about the direction of the Lakers.

"He just wants his team [to win]… with players, sometimes there's a certain level of frustration when we don't feel like we're moving in the right direction."

All-Star Memories
Asked for his favorite All-Star memory from 14 selections, Bryant didn't hesitate.
"For me the best memory of All-Star Weekend has always been my first All-Star Game. The Golden Greats -- [Michael] Jordan, [Clyde] Drexler, Charles Barkley, John Stockton, those guys. Always my fondest memory."

Los Angeles Clippers
Bryant said he's looking forward to playing with Clippers guard
Chris Paul
and forward
Blake Griffin
during Sunday night's All-Star Game.
"We had a good time last year," he remembered. The 2011 All-Star Game was held in Los Angeles.
Asked if he ever imagined that four Western Conference starters would come from Los Angeles, he delivered a punchline he seemed to have been sitting on.
"Yeah, it was just in Lakers uniforms. Clippers had none."
Mentoring
Given that the All-Star experience is now old habit for him, Bryant joked that he was merely looking for "rest and relaxation" this weekend.
He did say that he also enjoys evaluating the first-time selections to see who has "pre-game jitters" and that he seeks out younger players with certain characteristics to offer a bit of mentorship.
"Certain players, if I see a little bit of myself in them in terms of disposition and work ethic, I'll help them out," he said, without revealing any names.