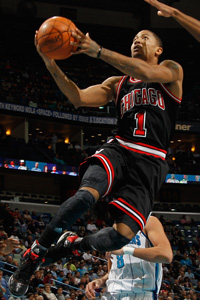 Derrick Rose signed a shoe deal for the GDP of a small country.
(Getty Images)
By Matt Moore
CSN Chicago reported Saturday night and
Yahoo confirmed
that
Derrick Rose
has reached a new endorsement deal with Adidas for over $200 million after incentives. Yahoo says the deal is for $185 million over 13 years, with incentives that push it over, while
CSN tops it at $260 million over 14
.
Even on the low end, that's over $14 million per year for 13 years.
Not bad for the Chicago-native.
Rose has become Adidas' signature property along with
Dwight Howard
. With Rose capitalizing on the MVP season last year, this deal puts him in the next tier of athletes financially. Maybe most surprising about the deal is that Rose's personality isn't infectious. While he manages to come off as humble by saying he deserves MVP consideration even before he won it and saying some un-humble things, he's lacking in charisma and his interviews, to be honest, are like watching road construction. There's some noise, and afterwards you have a result, but mostly it's just a grind.
But Rose is so good (too fast, too strong?) that it doesn't matter. And for a kid that came from his circumstances to now no longer have to worry about money for himself or his future kids or his kids' kids or their kids, that's a pretty great story.
Rose's
Adidas line of adiZero is currently on version 2.5
.