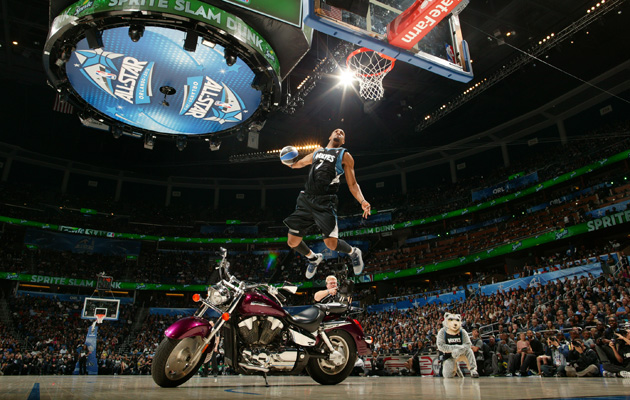 Kevin Durant wants to stop things like this from happening.
(Getty Images)
Posted by
Ben Golliver
There's a consensus: something big needs to change so that the 2012 Slam Dunk Contest never happens again.
In the immediate aftermath of
Saturday night's Slam Dunk Contest
, which was marred by zero All-Star participants, terrible dunks, too many scripted stories, an absence of judges and a sketchy fan voting process, Oklahoma City
Thunder
forward Kevin Durant
made a clear statement
: The NBA's biggest stars need to participate in future Dunk Contests.
"It's time for
LeBron James
, Mr. [Russell] Westbrook, Mr. [Derrick] Rose and
Dwyane Wade
to get in the Dunk Contest," Durant tweeted.
"Not me but I agree with the others," Wade replied.

On Friday, James told reporters that he would consider participating in the Dunk Contest if there was a substantial winner-take-all prize.

Durant's list of participants for a dream Dunk Contest is interesting, but imperfect.

Clearly, James is the holy grail. In the heart of his prime at 27 years old, he is probably the NBA's second best in-game dunker, trailing only Blake Griffin. A master of catching lobs, finishing with authority and getting way, way off the ground, he's an absolute no-brainer. Imagine full-court alley-oops, broken rims, backboard slapping. He could even dunk a ball then dunk his headband with the other hand as a response to all his hairline haters. He needs to do a Dunk Contest.

Westbrook, Durant's teammate in Oklahoma City, is an excellent pick as well. He flies at the rim like a scud missile, taking off from deep and finishing with plenty of force. He's got the charisma and moxie not to stand toe-to-toe with James too. He wouldn't shrink. He should definitely be in.

At 30, Wade's dunking prime is probably behind him, although he's still capable of putting anyone in the league on a poster. He would be better cast as the teammate/hype man for James and, realstically, these two would never face off against each other under any circumstances. If the Alpha Dog stuff is bad now, imagine the outcry and headlines if Wade somehow managed to upset James in a Dunk Contest. Let him throw the lob passes and dish out the daps.

Rose's inclusion by Durant is questionable. His physical talents are beyond reproach but his specialty is finishing lay-ups in traffic and/or after drawing contact, not dunking free of obstacles. Would he be compelling in this format? His personality doesn't exactly scream Dunk Contest. He's a technically sound dunker but his efforts are more likely to make you go "mmm" rather than get off your feet and scream.

If James and Westbrook are in this and Wade and Rose are out, the final two spots should be filled by Griffin -- obviously -- and either Dwight Howard... or Durant himself. Howard has been there, done that with the Dunk Contest many times before, but he always seemed to back up the stupid costumes and props with memorable dunks. His flying Superman slam/shove dunk, for example, will stand as a classic for decades. One of the all-time "Wow" Dunk Contest moments. Who wouldn't trade all of Saturday night's contest for that one dunk? No one.

While Durant is not a prototypical Slam Dunk competitor, he has absurd length, good hops, a star's personality and a respect for the history of the game that would likely inspire him to new levels of creativity. If anyone is going to come up wtih something that's never been done before, it's Durant. His wingspan would allow for up and under dunks from the baseline or behind the backboard. Surely James Harden could be on hand to provide the necessary passes and encouragement.

But this is exactly the problem. Everyone, including Durant, wants to see the stars in the Dunk Contest. But none of the stars, including Durant, is ready to step up and nominate themselves to be thrown into the ring.

No doubt, some prize money needs to be involved here, given how central an event this is on the NBA calendar. But the stars should look back at what past Dunk Contests have done for the likes of Howard and Griffin and realize that the "there's nothing to gain and so much to lose" argument doesn't hold much water. Does anyone honestly believe that James would fall on his face during a Dunk Contest? Come on. He would kill it, just like Griffin did last year, and then he would profit off of it for years to come, just like Griffin is doing right now.

Hopefully Durant's Twiter plea is the first in a wave that will finally convince these guys to suck it up and get out there. Peer pressure, in this case, is a very good thing.