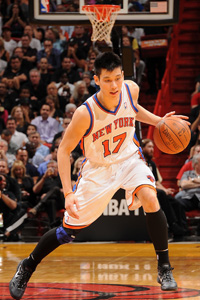 Jeremy Lin put in more than physical work to succeed. (Getty Images)
By Matt Moore
There have been two big questions asked in regards to the Jeremy Lin Phenomenon which has lead the two-year-fringe-player to the heights of NBA stardom and reinvigorated the
Knicks
' season. They are two separate questions that appear dependent on how you view players in the NBA.
1. How did so many people miss out on what this kid can do?
2. Where did this kid come from?
In the former, there's a sentiment that Lin was always capable of doing this and just didn't get a chance to play. That somehow, basketball ability is not a developed skill, it simply is or is not. And that makes sense in a lot of ways in terms of today's NBA environment. Stars are largely self-evident, and you can tell they will be stars long before they're even drafted.
LeBron James
was going to be the No.1 pick in the draft form the time he was 16 (maybe earlier). The idea is that players can play, and all that's left is the basketball intelligence of the assessing personnel. In short, the idea is that the
Warriors
and
Rockets
are "idiots for whiffing on Jeremy Lin."
To take this approach is a lot like working backwards with circular logic. Jeremy Lin is good, so Jeremy Lin has always been good.
This isn't the case.
In a painstaking article from over the weekend, Howard Beck of the New York Times wrote a comprehensive account of Lin's path from high school to Harvard to the Warriors to D-League to the Knicks. It breaks down the entire process and talks to several coaches involved in his basketball development. The NBA, especially its elder statesmen, tend to shy away from the idea of development. Even Red Auerbach often (but not always) held the opinion of basically "the kid can play or he can't play." It's an easy approach. But with AAU, the shortened college tenure, the higher number of players and teams, the higher level of skill and the more developed playsets and schemes at the NBA level, lost is the fact that there are good players who need the right course of developmento get where they are. Lin has credited his coaches at every level,
including his time spent in the D-League
, with getting where he is now, on top of the world (unless that
Heat
game proves to be the end of the ride).
But lots of teams center on development. A lot of players get the same kind of help Lin did, often more. So what is it that made Lin make it through the process and come out on the other side a starting point guard on the World's Biggest Stage?
There's a mental aspect. From the Beck piece in the
New York Times
:
Lin's perfectionist tendencies came out in a 3-point-shooting drill called "beat the ghost," in which Lin earned 1 point for every shot he made at the arc and the "ghost" earned 3 points for every shot Lin missed.

On one occasion, Lin made 17 3-pointers but lost 21-17, then kicked the ball in anger, Scheppler recalled with a chuckle. He refused to stop until he beat the ghost. It took 14 games. When Scheppler tallied up all of the scores for the day, Lin had converted 71 percent of his shots from the arc. "That's the beauty of Jeremy Lin," Scheppler said. "It's not about moral victories. It's 'I have to win.' "
via
Jeremy Lin's Evolution - NYTimes.com
.
It's not enough to have the physical tools to improve upon. Players have to be checked in and want to improve, they have to want to dedicate themselves. Players need to look at the D-League, at extra coaching, at offseason workouts as imperative. It's not enough to just be superior athletes or talented shooters. There has to be a drive to make the most of potential and opportunities. Otherwise, you're only going to go as far as your natural talent takes you.
Should the Warriors or Rockets, both of whom let Lin go, have recognized that drive? Yes and no. Being a hard worker shows itself, but there are lots of hard workers who don't have the ability. You have to recognize not only their drive and ability, but be able to recognize that they are a good fit with a development plan. Ego gets in the way of that a lot of times.
You can't blame the Rockets, and you can't entirely credit the Knicks. It takes the right combination of events to occur for the situation to be right for something like Lin's rise to happen. But the one person you can credit is Lin. He's the one that put in the work.